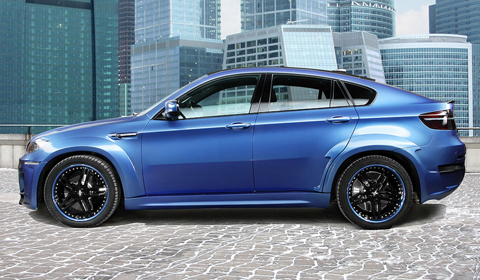 Most of us have seen Lumma's attempt at the BMW X6, the CLR X650 GT. Lumma have extended their range to cover the newly introduced X6M too and we think we are right in saying, these are the first pictures!
The body kit is much the same as the GT, a new bumper set, side skirts and a rear spoiler. A set of 23-inch alloy wheels and a set of daytime running lights.
Underneath, power from the twin-turbo 4.4-litre V8 rises from 555hp and 680Nm to 650hp and 830Nm. A 0-100km/h (62mph) sprint can be achieved in 4.5 seconds with top speed pegged at 312km/h (194mph).
Look out for Lumma at the 2010 Geneva Auto Salon where they plan to release the CLR X650 M alongside the Lumma Panamera CLR 700 GT.
[Via Autoblog.nl]