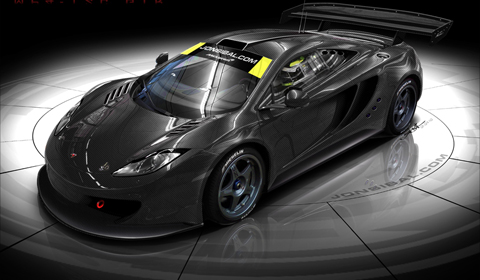 Those of us old enough to remember when the original McLaren F1 GTR came out are probably going to get quite excited about this design concept by Jon Sibal. It's based on the new MP4-12C but envisages what the car would most likely look like if it were to go racing at LeMans some time in the future.
Most of the visual changes are aimed at making the MP4 resemble more closely, the F1 GTR 'short tail' versions that raced between 1995 and 1997.
The designs emulate iconic chassis, for example, the black 'Ueno Clinic' borrows its designs from chassis number 01R. This car received a conversion from road car number 019, later going on to an overall win at LeMans in 1995 for Kokusai Kaihatsu Racing team.
The Harrods liveried car is the counterpart of McLaren F1 GTR number 06R. The 'GTR' liveried car resembles chassis McLaren number 10R, now in the hands of Nick Mason (Pink Floyd Fame). The 'Lark' car is number 13R, 08R was the Fina car, the final two designs are based around those applied to chassis 12R.
[Via JonSibal]