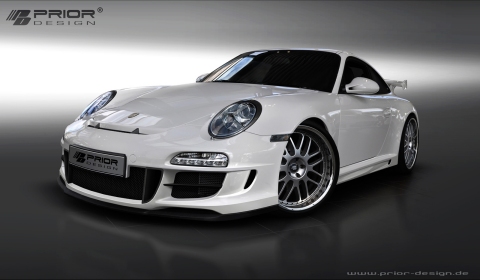 Prior-Design have presented their latest 'aerodynamic achievement'. A reinterpretation of the Porsche 911 GT3, which has changed from a 'straightforward' sports car into an exclusive super sports car – the Porsche 911 PD3 – according to Prior!
The vehicle has a revised front section with a carbon spoiler blade and carbon inlets ensuring an improved supply of fresh air as well as improved levels of downforce. By using brand new sills, the side line of the GT3 is guided seamlessly to the rear, ending at a rear which is also new. The rear section has a diffusor with two integrated carbon fins. The end of the muffler is completely enclosed, which additionally optimises the aerodynamic attributes. Air inlets, positioned on the left and the right, are additionally strengthened with two carbon inlets. The stock GT3 wing remains unchanged.
The kit also includes technical hardware such as an in-house designed, hand-made stainless steel exhaust system. In addition to this, an ultra light, multi-section forged rim is available in a choice of different dimensions. The adapted chassis puts the vehicle 30mm closer to the road surface.