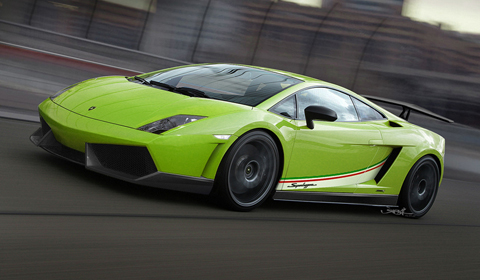 Thanks once again to TeamSpeed.com and JonSibal.com we can bring you exclusive pictures and information on the LP570-4 Superleggera. New pieces of info as well as these brilliant photoshops have been pieced together from people who attended yesterday's Singapore preview. So what can we expect from the new Superleggera?
To start with, the LP570-4 will share the same gearbox options as the LP560-4. As the name suggests there will be a modest 10bhp power increase pushing total power up to an estimated 570bhp. 70kg will be lost bringing the total weight down to 1430kg kerb weight and 1340kg dry weight. This means a power to weight ratio of around 2.35.
Expect 0-100km/h (62mph) in 3.5 seconds with a suitably increased top speed as well.
The car will be offered in six colours; Orange, Grey, Lime Green, Yellow, Black and White with exclusive green, red and white 'Superleggera' decals along the side skirt.
There will also be the opportunity for owners to match the leather stitching of the interior to the colour of the exterior in green, orange, and yellow Superleggera's. White, grey and black Superleggera's will have the same option but with grey stitching instead.
The official release of the car is still planed for the Geneva Auto Salon 2010. We will be there to bring you photos and official details.