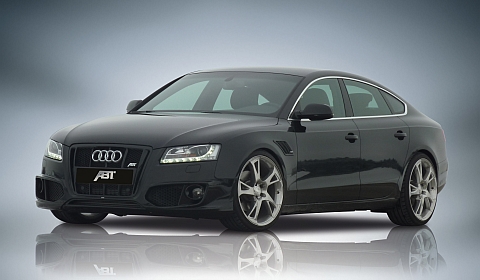 Audi's extensive model range has been the basis of a fair few tuning projects in the past. The A5 Sportback, it seems, is no exception. ABT announced their plans to create the first tuning project for the sedan/coupé. All engine options receive a power boost as well as new braking systems and aerodynamic tweaks.
Audi's 3.0 TDI engine receives a power boost from 240bhp to a respectable 282bhp. With the ABT Power S kit, this figure rises further to 310bhp. Final torque figures for the most powerful options are 610Nm, enough to reach 100km/h (62mph) in just 5.8 seconds. For the 2.0 TFSI petrol option, ABT raises the power to 275bhp from 180bhp.
Customers can choose between the ABT braking system with it's 345mm disks or the ABT sports braking system with larger 380mm, eight piston callipers.
Front apron, front grille, wing inserts and the rear spoiler bring the AS5 Sportback in line with the rest of the AS5 family. Quad exhausts finish the rear off whilst the customer gets the option of ABT AR or BR alloys in either 18 or 20 inches.