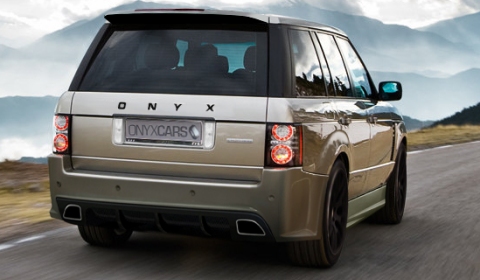 The Irish tuner Onyx concept has unveiled a new conversion to its Range Rover collection after releasing the Sport conversion only a few weeks ago. The Range Rover Vogue conversion – also known as Platinum V kit – for the 2010 model has a newly developed body kit, several carbon fibre attachments and engine performance upgrade. The engine gets an extra 50hp in case of the diesel models and almost 80hp on the supercharged models.
The body kit includes suttle wide arches, front and rear bumpers and carbon attachments front and rear. The front has instead of Land Rovers original round spotlights, power output LED driving lights which can be used as actual spotlights. 22-inch TPM edition wheels are available for both Vogue and Sport arch kits.
The interior of the vehicle had a makeover with full perforated buffalo hide retrimed leather from top to toe including all seats, door cards, centre console and logo in the headrests. Onyx have also added their own 14pcs carbon fibre interior paneling package. The package includes pieces such as door handles and heater vent surrounds.
From January on both Range Rover Sport and Vogue conversions are ready for delivery in 2010.