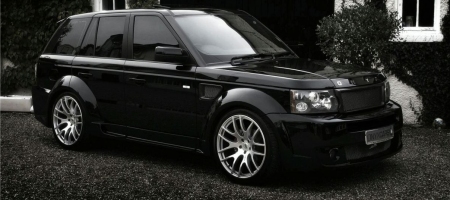 The last time we discussed Concept802, was about half a year ago. At that time they showed the world the Platinum S widebody kit for the Range Rover sport. Over the past few months Concept802 has changed name to Onyx Concept and the kit itself has been altered a little bit and got some new parts. Onyx plans to expand its line-up with a Range Rover Voque kit.
Onyx has added a 14-piece interior panel kit, A&D panels, front grill and side vents all made of solid carbon fiber. A suspension lowering system, Onyx TPM 22-inch wheels in a range of colours and perforated buffalo hide diamond stitched leather are available. Engine performance upgrades are also available on request.
Their is a Platinum V conversion planned to be available for the Range Rover Voque – older and 2010 models. Renderings where provided to WorldCarFans and it is expected to be a redesigned body kit made of carbon fiber. Even the grill is carbon fiber. The front bumper shows clear differences with respect to the Platinum S – for instance LED strips in stead of traditional fog lights. The rear bumper incorporates a different design, dual exhaust instead of quad and a new diffuser. All the parts are made of carbon fiber.
The Platinum S is available as of today via dealerships in Russia, UAE, UK and the US. The Platinum V is available mid-December.