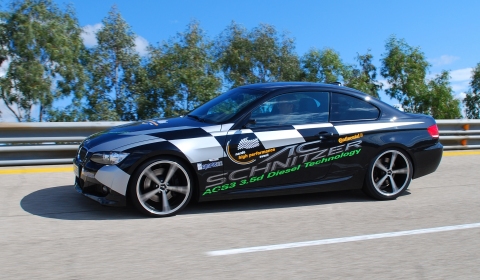 Once a year in southern Italy the 'creme de la crème' of vehicle tuners go head to head. German tuner AC Schnitzer succeeded in breaking the world speed record for the fastest road-legal diesel car by over 8.7km/h. The car they used? An ACS3 3.5d Coupé. Top speed? 288.7km/h!
The power upgrade is part of the AC Schnitzer program for all vehicles based on the 3.5d engine.
A second achievement was reached using the AC Schnitzer ACS4 3.5 turbo (based on the BMW Z4 sdrive 35i). The top speed of the roadster stopped at 303.1 km/h, with the roof closed of course. The Z4 was also running the performance upgrade for 3.5i engines.