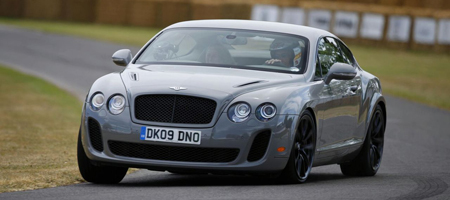 As we all know, Crewe's fastest car is the Bentley Continental Supersports. It's also the greenest, running on E85 biofuel. Today Bentley added further credentials to this claim by announcing that the Continental Supersports in also 85% recyclable! The claim has been officially backed by the German Motor Transport Authority (KBA) making Bentley one of the first luxury car manufacturers to attain this high standard.
It's not just the Supersport's that can claim the standard however. Bentley claim that the rest of the Continental range meets the same KBA standard.
We're also told that this is a small part of what Bentley plan to do. Their aim is to reduce the company's average fleet CO2 emissions by 15% by 2012. It's hoped that the introduction of a new powertrain will a 40% reduction in fuel consumption and push the company someway towards their goal.
The news further pushes the paradox that the Bentley Continental Supersports has created. Being the fastest car that Crewe produce (with a staggering 630bhp), it's also the greenest car, both in terms of emissions and recyclability.