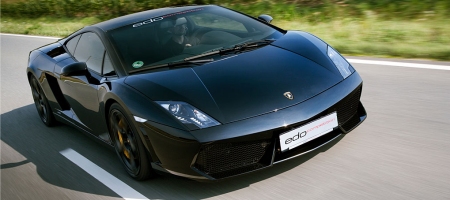 Edo Competition presents the LP600/4; 600 stands for its power output, 4 for the the four-wheel drive. But there are more figures! 340 is the top speed in km/h and 3.5 seconds is how long it takes to accelerate to 100km/h (62mph) from standstill.
The tuner from Alhen, Germany, has managed to improve performance by increasing power output to 600hp at 7,970rpm and the torque output to 572Nm (422ft-lb) at 6,845rpm. Another upgrade is the suspension improving drivability, driving dynamics and precision. Edo competition implemented a new sport suspension system.
The new stainless steel exhaust system has butterfly valves. Not only is the sound level adjustable via remote, the exhaust also frees up 15hp. The edo exhaust system weighs 12kg (26lb) less than the original piece. The front is reinforced with a new front spoiler lip, ensuring 340km/h (211mph) are fairly relaxing.
Rounding off the program are 19 inch three-piece racing wheels with artificially-aged cast center-sections, hand-polished outer rims and 39 stainless steel screws. For the front axle the customer can specify stock tire dimensions or 235/35 ZR 19, while the rear wheels are 305/30 ZR 19 Dunlop Sport Maxx rubber.
On the inside special interiors or lavish leather upholstery can be individually requested.