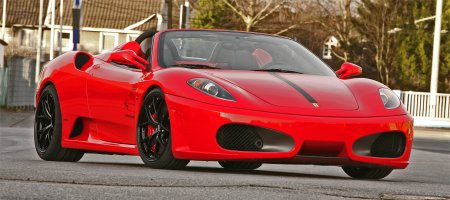 Wimmer has presented its program for the Ferrari F430 at the Essen Motorshow 2009. The F430 'Scuderia' kit includes new Wimmer engine control software and sport valve exhaust system. Furthermore you can get a hydraulic lift system and a set of 19-inch BBS FI alloy rims with Dunlop tyres.
By using a remote control a driver can choose between serial sport sound and racing sound. In addition to the exhaust system there are two welded high grade steel exhaust manifolds as well as two sport catalytic converters and an exhaust valves control unit. The performance increase of 38hp in engine power corresponds to a speed increase of about 11km/h, with maximum speed reaching 321km/h. The acceleration up to 100km/h is done in just 3.84 seconds. 200km/h speed is reached within 11.03 seconds and 300km/h within 34.9 seconds.
The program also includes a new KW HLS system (Hydraulic Lift System). When you push the button, the vehicle is adjusted by up to 45mm on the front axle. Obstacles that cannot be overcome with low ground clearance, can be driven over without any problems.
19-inch BBS FI alloy rims weigh 7.6kg each for the front axle rim and 8.8kg each for the rear axle rim. The black rims are completed by 8.75×19 with 225/35 R 19 Dunlop tyres on the front axle and 11.25×19 with 305/30 R19 Dunlop tyres on the rear axle.