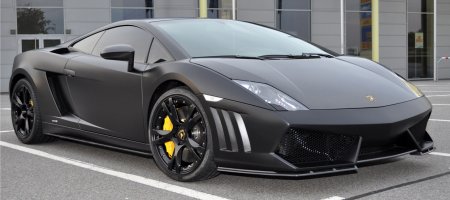 ENCO Exclusive from the Saxon town of Chemnitz has created a customised carbon fibre glove for the Gallardo LP 560-4. They also upgraded the engine performance up to 620hp and 575Nm.
The front bumper is 100% carbon fibre and has three large gills on each side where the fibre strands are clearly visible. Two additional carbon fibre finish aerodynamic components are available to fit both this and the series bumper: the front splitter and the rear spoiler. You will also spot new side skirts and an ultra-lightweight carbon fibre boot cover. The rear diffuser, wing mirrors and air vents in the boot lid are also finished in carbon fibre laminate. The matt foil completes the exterior looks.
Inside the ENCO Gallardo you will find more carbon. The inlay on the wheel, the cover on the central console and the dashboard and the handbrake shine in silvery black – as do the door handles and openers.
The ten cylinder engine got an upgrade up to 620hp. The maximum torque is now up from 540 to 575Nm.
ENCO also indicated the prices for all these parts. The front bumper changes owner for 2990 euros, the carbon fibre finish front splitter for series and bumper for 990 euros. Carbon fibre finish rear spoiler for series and bumper are available for 1990 euros. Carbon fibre finish side skirts for 3990 euros. The carbon fibre finish boot cover costs 3990 euros. Carbon fibre laminate for rear diffuser, mirrors and boot lid vents will be yours for 4000 euros. The carbon fibre interior finish is 5000 euros and the matt black foil 3000 euros. Finally the power increase to 620hp / 575Nm is available on request.