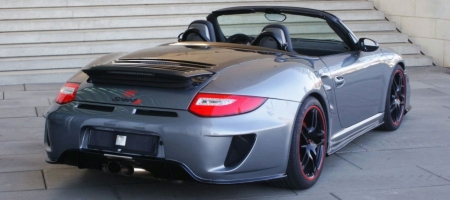 Recently 9ff chose to unveil photos and details of their new 997 Turbo based project, the Speed9. Featuring a dramatically re-styled rear end, the Speed9 is easily distinguishable from the standard car. The idea is that it will pay homage to the Porsche 356/1500S Speedster of 1955.
Considring the design brief, the Speed9 does away with the electronic folding cabriolet roof that the 997 Turbo Cabriolet includes. This gives it a speedster look whilst also meaning that it's probably not best suited to adverse weather.
It features a Bi-Turbo 650bhp engine which produces a staggering 890Nm of torque at just 2,850rpm. The power is achieved through the use of sports air filter, a re-programmed ECU and a 9ff sports exhaust system including a sports catalytic converter. All of this comes through the Porsche tiptronic gearbox.
The aerodynamic upgrades, front apron, side skirts and a rear apron complement the cars handling. Whilst the adjustable stabilisers on the front and rear axles, double springs and four aluminium spring plates all help control the extra hoursepower. The 9ff brake system provides the stopping power that a car of this nature almost certainly needs!
The car will be unveiled at this weekends Essen Motorshow. We'll hopefully be able to bring you lots more information then. For now enjoy these photos!