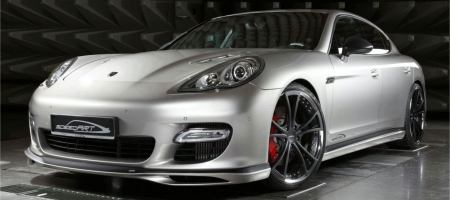 As the Panamera has been out for a few months now, we're just starting to see the wide range of tuners renderings materialise into actual cars. SpeedART's have just released these images and details of their PS9-650. The saloon will appear at this years Essen Motorshow which starts this weekend.
Underneath the bonnet lies an engine who's figures minic that of the 9ff Speed9 that we showed you earlier on today. The PS9-650 features bigger turbos and intercoolers, a new air filter, a sports exhaust system and a new ECU program. The combination releases a peak horsepower figure of 650bhp and 890Nm of torque which gets the car to 62 mph (100kph) in just 3.5 seconds and on past the 200mph mark.
In terms of aerodynamics, a number of new body parts have been added. A front spoiler and hood vents make the car stand out from the standard car. The new rear diffuser, a rear hatch spoiler, modified rear bumper and aggressive side skirts finish off the cars unique design. Exhuast tips will be finished in either stainless steel or matt black.
A range of interior options are available at the owners discression. Materials such as carbon fibre, aluminium and wood are all included in the choice. Three-piece 22 inch wheels finish the package.
If 650bhp is a little too much for you, SpeedART also offer 600, 550 and 520bhp packages. For more info please visit SpeedART's website or visit the Essen Motorshow 2009 to see this car in person. GTspirit will be at the event to give you a closer view on the full kit.