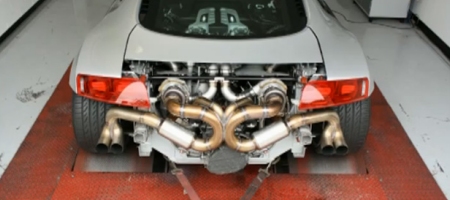 Heffner Performance is known for its 'special' tuning project. Next is a Audi R8 V8 outfitted with two massive turbochargers. The set up results into 536hp, a 183hp gain (more than a 50% increase) over what the car in footage had when it came in with a Stasis exhaust and Revotech ecu tune. They expect to get near 600hp with a special 100 octane program.
The guys at Heffner Performance stated the following about their vehicle:
We have been obsessing over this R8 Twin Turbo system. In usual Heffner fashion we wanted to make something that looked like it could have come on the car from the factory. Well, I think we have done it. Right now the system is in raw fabricated form and now that we have completed dyno testing the car we will be removing the system for coating and polishing.
You can find the 6 PSI 93 Octane Dyno Sheet here.