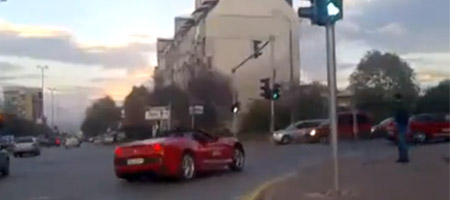 Just a couple of day's after the third Bugatti Veyron Crash, we spotted footage of two Swiss Ferrari California's power-sliding round the streets of Sofia, Bulgaria, with it ending badly for one of them.
This crash took place yesterday in Sofia, Bulgaria, where the driver of the second Ferrari California over cooks the power-sliding and crashes into the path of first a local car and then into a JCB.
With both cars featuring Marlboro stickers down the side and promo models in the car, we are assuming that this was part of a promotional event.
This wasn't the first bit of poor driving of theirs caught on camera, earlier in the day they both nearly lost it coming out of what looks like an underground car park.
Check the video's out below!
[Via carscoop.blogspot.com]