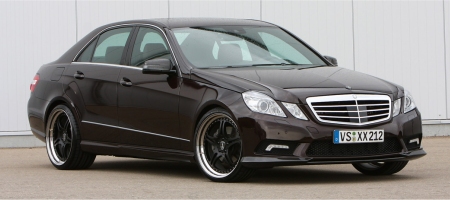 Mercedes specialist Kicherer has developed a package for the E-Class. As a basis they used a model with the AMG bodywork and refined with a plethora of outrageously expensive carbon fibre parts. Refinements include a carbon front spoiler, a side skirt kit with integrated carbon tubes, carbon mirror shells, a carbon rear diffuser and a rear spoiler which is optionally available in carbon or also in matching car colour.
But it doesn't end here. The E-Class gains even more exclusiveness thanks to the forged and handcrafted Kicherer RS-1 lightweight wheels, which turn in 20 inches and a 245 series tyres in front and a 285 series tyres at the rear. In addition to various performance increases, including Vmax removal, Kicherer is presenting new tachometer units, a differential lock and exclusive high-performance braking systems.
For the interior Kicherer has a self-developed ergonomic leather sports steering wheel on offer, as well as a foot mat set with exclusive leather bordure.