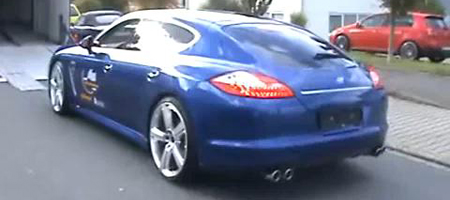 An eagle-eyed youtube user has uploaded this clip of a 9ff Panamera being loaded into a transporter. In the video the car is completely static, however there are a few rev's that leave us with the opinion that 9ff have already started messing around with the power outputs. We're guessing that this isn't the full package as it differs a lot from the original sketches we saw.
9ff have definitely given this Panamera a sports exhaust system to open up that raw Porsche sound. The car looks physically lower than the official version and appears to be sitting on some very large rims. Possibly 22″.
Overall, we're not entirely satisfied with this look. We're sure it will improve as the new bodykit gets gradually added. Until then, take a look at the video below!
[Via TopSpeed]