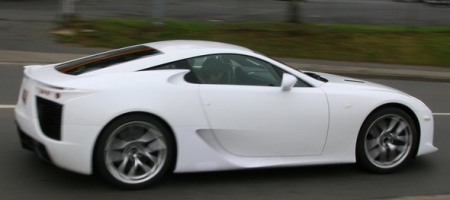 The LF-A supercar has been a concept over the past period, but that is coming to an end. Lexus has decided that the new two-seater supercar will officially be introduced at the 2009 Tokyo Motor Show. This is the only information we got so far. So no official information of the specs and no official pictures of the long-anticipated V10-powered supercar.
The rumours say that it will compete price- and performance-wise with no less than the Ferrari 458 Italia and other exotic models. It is also uncertain if Lexus will follow the example of Toyota and its FT-86 RWD compact sports coupe and Honda with the CR-Z hybrid coupe, introducing a thinly disguised concept model. Until the moment we have the full information, we have to stick with some pictures and videos made at the Nurburgring.
Enjoy the footage and make sure the speakers of your laptop, pc or mobile are wide open!
[Via Carscoop]