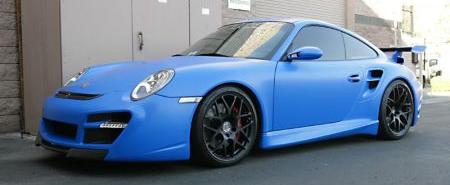 A flat-blue Porsche 997 Twin-Turbo creating 800bhp is the current project from a GTspirit forum member at Vividracing. Most of us will know him as a true road rally fanatic; he has participated in Gumball 3000 from '03 to '09, only missing the 2007 edition due to the Bullrun Rally. His car was finished recently and refined with a bunch of power and visually upgrades. Just in time for the Texas Mile event in a couple of weeks.
Vividracing told us:
We redid the entire intake system and Ypipe to be a full 3-inch off the intercoolers. The intake filters are now located in the fender well with the intercoolers to receive fresh air without the engine heat. The twin BOV's are pretty cool looking and nicely mounted. We also added the rear Brembo 2pc rotors. After 6 months of having the fronts, it was time to have the rears. Beside that we also added our new Agency Power Roll Bar.

To finish off some styling, we wrapped the car in a Flat Blue finish and changed out the P43 for some HRE P40's in Flat Black. The car is looking hard as nails!
A full list of the cars' specs:
Engine/Performance:
Vivid Racing 800HP Performance Kit
Custom Aluminum Intercooler Piping
Custom Aluminum (powdercoated red) Larger Y-Pipe
Custom T-Pipe with CTT Larger Throttle Body
Converted Porsche oil and water fittings to AN for Garrett turbos
Garrett GT3076rs Turbochargers with a .63a/r
Tial 44mm External Wastegates
Agency Power High Flow Bar and Plate Intercoolers
Agency Power Silicone 4pc Boost Hose Set
Agency Power Cold Air Intake Kit with Carbon Fiber Cover
Agency Power Adjustable Blow Off Valves set up 50/50
Agency Power High Flow Performance Headers modified for Garrett turbos and Tial Wastegates
JIC Cross 80mm Exhaust system with Quad Tips
Softronic custom ECU Tuning. VTG delete mod, race gas and pump gas map.
Greddy Profec B Electronic Boost Controller
Exterior:
Vorsteiner Carbon Fiber Front Bumper
Vorsteiner Carbon Fiber Rear Bumper
TechArt Side Skirts
MaShaw GT2 Rear Wing
VR LED Front Marker Lights
Clear Side Markers
Suspension:
JIC Cross Racing Coilovers
Agency Power Front 27mm Sway Bar
Agency Power Rear 24mm Sway Bar
Agency Power Front Adjustable Sway Bar Links
Agency Power Rear Adjustable Toe Links
Agency Power Rear Adjustable Control Arms
Corner Balanced and Aligned – GT2 Specs
Wheels/Tires:
HRE P43 Monoblock Wheels 19×8.5 and 19×11 Textured Black
Michelin Pilot Sport PS2 Tires 235/35/19 and 305/30/19
Brakes:
Brembo 2pc Floating Slotted Rotors Front – 4lbs lighter then stock
Brembo 2pc Floating Slotted Rotors Rear – 3lbs lighter then stock
Agency Power Front and Rear Steel Braided Brake Lines
Endless Racing Brake Fluid
Transmission:
Agency Power Short Throw Shifter Kit
Agency Power Precision Shift Linkage
Clutch Masters Stage 3 Full Disk Clutch Kit
Interior:
Agency Power Bolt-in Performance Roll Bar with removal harness and diagonal bar color matched to car
Red Seat Belts
Carbon Trim
Laser Jammers by Blinder
Valetine 1 Radar Detector Hard Mounted
[Via Vividracing]