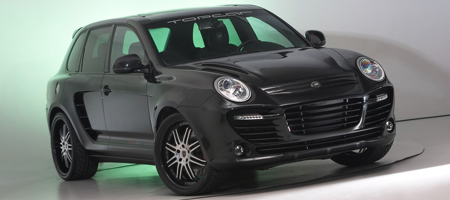 After doing a little research on the Top Car Panamera Stingray we realised we'd never brought you any information on their first project, the Cayenne Advantage. Another joint project with Russian tuning company Cardi, the Advantage made use of 9ff's engineering skills and offered customer's the chance to purchase a Top Car/Cardi designed advantage with the tried and tested engineering of 9ff's power upgrade packages.
Only 50 of these cars will ever make it onto the roads. Cardi list 5 completed cars on their site, numbered up to 10/50. Top Car and Cardi also supply bodies for the 9ff Vantage GTR.
Many of the Cayenne's key panels are replaced in the upgrade process. You may notice that the frontbumper has been replaced and re-designed to feature new 997 turbo headlights. This necessitated the re-design of the front fenders and the bonnet, at the same time several new air vents were created to channel air into whichever state of tune the customer orders from 9ff.
Another interesting feature is the lack of a rear door handle. It's actually been replaced by a button which sits underneath the void left by the side air intake. This feature has most likely been inspired by the Ferrari 355 which featured exactly the same type of entrance. On the Cayenne it has the effect of creating a sportier look, almost hiding the fact that it has four doors.
The car is 10cm wider than the standard Cayenne and 20cm longer as a result of the re-designed rear. Back here there are new air vents as well as a new spoiler and diffuser.
Interiors are mixed with some customers preferring a comfortable mix of leather and wood, others want a sportier mix of alcantara and carbon fiber.
Altogether, Top Car ask for €50,000 to complete the aerodynamic and interior work. The 9ff modifications are not included in this price although for an extra price we reckon Top Car will facilitate the completion of this work!
So there it is… Let us know what you think…
[Via TuningCentral.net]