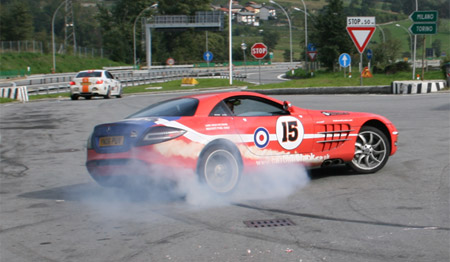 This might not be the most recent shot of a McLaren SLR doing a donut, but it brings back good memories for us and hopefully for some of you as well. I shot this photo during the first edition of the Carbon Black supercar rally in October 2006. It was on the final day from Geneva to Milan that we pulled in for petrol after descending from the Grand Saint-Bernard pass into Italy with a small group of supercars that had the petrol station attendant flabbergasted.
The final day of Carbon Black remains one of my most memorable drives, from the beautiful twisty mountain roads leading up to the Grand Saint-Bernard mountain to the deserted towns in Piemonte and the chaotic rush hour in Milan, it all added to the excitement and memories of that day.
Our vault contains a lot more unseen pictures, videos and untold stories from various events GTspirit has been to over the past few years, drop us a comment below so we can see if there's interest in a series of articles that take you back to the glory days of road rallying.