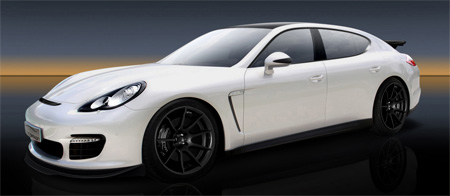 After Gemballa and 9ff, English tuner Oakley Design is the third to show their vision on the Porsche Panamera Turbo. The Oakley Design Panamera Turbo features a number of wind tunnel developed aerodynamic parts and Dymag lightweight carbon fiber wheels. The engine outputs range from 580hp for a simple remap and modified exhaust to an expected insane 680hp for a fully modified Panamera Turbo.
Oakley Design promises a number of carbon aero parts for the Panamera including a front spoiler with carbon splitter. The side sills are replaced with modified examples similar in shape the ones used on the Oakley GT2, this will help straight line stability although we doubt the heavy Panamera really needs this. At the back Oakley adds a deeper diffuser to tidy the air flow from below the rear floor area and being matched with the front spoiler and side sills this should also increase the top speed.
The original electronic rear spoiler will remain but with a new carbon cover top section and the speed this is activated will be altered depending on the level of tune. As with previous Oakley Design models, the roof will have a complete carbon fibre panel, which will also include full use of the Panamera factory sunroof.
The Panamera standard exhaust system will go straight into the bin and a complete new titanium system will replace it including quad exhaust tips with the Oakley Design logo. This change alone will see the rather porky Panamera drop over 40kg. Most Turbo cars will come equipped with the extremely heavy 20inch RS Spyder Design wheels and many tuners will go larger/heavier still. Having already driven some pre development cars Jon Oakley has decided to stick with the same 20inch wheel size but utilize the Oakley Design and Dymag light weight Carbon Fibre wheels. This again will see the cars weight reduced by a further 35kg and from a very critical area. There will be a small off set change to generate a wider foot print and aid the handling without upsetting the ride quality. The ride height will be dropped and stiffened electronically with a simple plug and play gadget.
The strongest version of the Oakley Design Panamera Turbo that produces 680bhp will feature various other parts that are being developed with Oakley's American distributer 'Farnbacherloles'. The Oakley Design Panamera Turbo kit should be available from the 15th of September 2009.