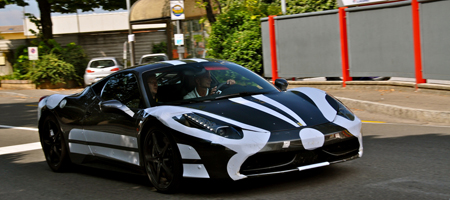 As Frankfurt draws nearer and nearer we've started getting more and more excited about seeing Ferrari's latest offerings up close. The 458 Italia replaces the F430 as a completely new car. We're excited about this because we've always seen the F430 as being a facelifted, uglier version of the F360. We've uncovered some new photos and videos of the car.
Thanks to Carspotter we've got some of the best spyshots we've ever seen, along with a very high quality video with awesome sounds.
The 458 Italia definitely sounds the part. The sound is similar to the California (also to be seen in the video). We'll let the videos and photos speak for themselves. Let us know what you think in the comments box below.
[Via Carspotter Via PureGT]