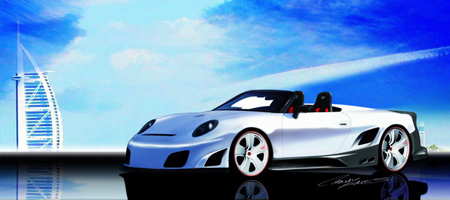 The 9ff GT9R is likely to gain a convertible companion soon. The news comes from a WCF reader who noticed that the UAE 9ff website contained an image of the topless supercar on it's title page. With the Burj Al Arab in the background, it looks like the GT9R Convertible is being targeted at the Middle Eastern market.
The 9ff GT9R was released at the end of last year and was first shown at the Essen motorshow. With 1120bhp and 1050Nm torque, it's one of the fastest production cars around.
We'll let you know when we know a little more!
[Via WorldCarFans]