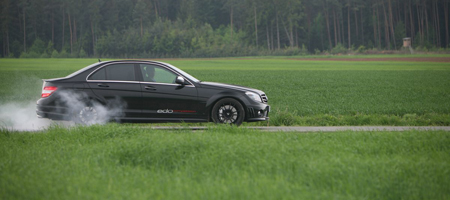 Mercedes' C63 AMG is not what we would call a slow car. It might be the baby of the AMG range but it's 451bhp means that it can outperform almost any similar priced rival. But if we compare the 6.3 liter engine to the very same one found in the rest of Mercedes' model range we start to see that it's down 67bhp. In step's Edo Competition with their moto 'to hell with modesty…' Their take on the C63 is even more powerful than the 6.3 liter AMG engines producing 555bhp through natural aspiration.
Yes you read right, no turbocharger or supercharger has been applied to the car and yet it still produces 555bhp!
So how have they managed to gain over 100bhp without adding either of these units? Edo put the power increases down to the addition of a newly developed high-flow performance exhaust system alongside new exhaust headers, high-flow catalytic converters, air filters and, of course, a recalibrate ECU.
Edo have also done away with the electronic limiter meaning that you are no longer restrained to 155mph (250kph) and can reach the car's true top speed of 199mph (320kph).
The exhaust system features butterfly valves, like those we often hear on Aston Martin's, that open at high RPM levels to create a sound unique to the Edo Competition C63.
New ultralight 19inch alloys aim to allow for a better driving experience and are coupled with Michelin Pilot Sport Cup tires in size 235/35 19 on the front and 265/30 19 on the rear.
We like it! Let us know what you think.