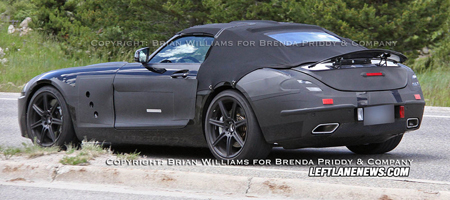 The SLS hasn't even been released yet and already we're seeing a convertible test mule. Spy photographers scooped these photos a couple of days ago while the car was undergoing some testing. These spyshots come day's after AutoBild spied what looked like the final production version of the SLS coupé.
It's unlikely that the SLS AMG Convertible will make it to the showrooms for another 2 years, however, these shots prove that the Mercedes-Benz are working on the car.
As with the current flagship Mercedes, the SLR, the convertible top on the SLS looks to be a fabric one. We've already established that the SLS's inspiration is the iconic 300SL which featured a soft top, therefore this would be the perfect combination. The classic 300SL convertible made use of standard doors instead of the gullwing style that appeared on it's coupé brother.
The convertible will be heavier than the SLS coupé as engineers have to package in the extra roof mechanism's. It's also likely that the SLS will be more expensive than the coupé when it's eventually released.
[Via LeftLaneNews]