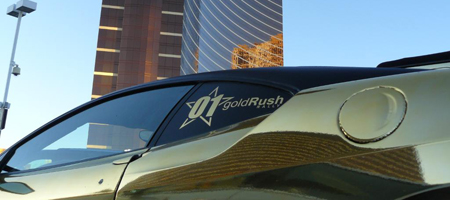 Since the golden era of Gumball 3000 a number of other rallies have come along and attempted to emulate the success that has surrounded the event since the beginning. Our forums are a great place to catch up on these events and the stunning cars that they seem to attract. A new one on the scene is the Gold Rush Rally. We've been following it's inaugural event which ran from 4th June and followed a three day itinerary.
Much shorter than some other events, the Gold Rush Rally attempts to bring together a close group of friends, celebrities, cars and above all partying. The route started in San Francisco, then moved to Los Angeles and finally on to Las Vegas where the whole event ended with a wrap party at Las Vegas's Wynn Resort, one of the most luxurious hotels in the world!
Luckily several professional photographers were on hand and the whole thing was documented to the extreme. Forum, Luxury4Play.com put together much of the grid and provided a space for participants to post their stories, pictures and videos. There's a lot of images available on their forum, these are just some of our choice favorites!
A number of rare cars were involved including a 430 Scuderia, Gallardo Superleggera, LP640 and an LM002. Also rare for the area of the world was the Aerial Atom, a car imported from the UK, and a tuned Gallardo. We would tell you what type but we honestly don't know!
The event went off without attracting too much police attention. Nobody was arrested and the only time the police pulled everyone over on mass was to break up a large pack which had distracted a few freeway users. The only accident occurred when an Aston Martin had a small accident whilst using a phone, everything turned out to be OK though.
We hope to see the event back next year and we'll be keeping an eye on it!
For more info on this years event from the guys who actually drove it head to Luxury4Play.com forums. Thanks to the members for posting so many pictures.
VIDEOS: