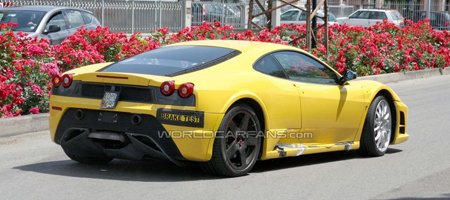 Ferrari's F450 test mule has been spotted outside of the Maranello test facility. Generally bigger in every aspect, the F450 is due to be unveiled at the Frankfurt motor show in September. These pictures don't really reveal much extra in the way of juicy details, however they do show us the layout for the new rear diffuser.
It's an imposing thing, creating a huge void leading deep into the car, channeling air round it's flanks. It adds to the sporting look we expect from every car that leaves the Maranello stables. The other thing to note from these pictures is the cars status taped across it's rear. 'Brake test'.
The F450 has been rumoured to include a road legal version of the Formula 1 KERS (Kinetic Energy Recovery System) which uses energy generated in braking to provide a small boost in performance at the touch of a button. Could this car be set up to test this unique system? We believe that the probability is quite high!
The F450 mule (known internally as project F142) has been snapped a number of times in the past. None of the rumors about engine's for the new 'entry level' Ferrari still focus around the use of a 4.5 liter V8 unit with up to 550bhp coupled to the seven-speed dual-clutch transmission from the California to put the power onto the road. The car could hit dealerships as early as next summer we are told…
[Via WorldCarFans]