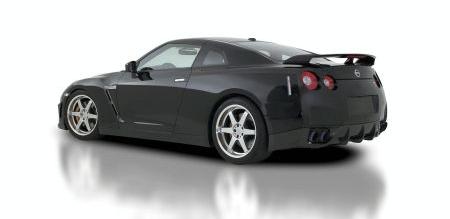 The Nissan GT-R is a perfect car, but it seems that more and more tuners want to get more out of this Japanese sportscar. Next in line is Vorsteiner with the Ventross GT-R. The package is an exterior aerodynamic one and consists of two components. The first one consists of a set of enlarged carbon fibre air intakes for the radiators that also includes an extra source of cooling air for the brakes. Together with a new front spoiler completes the look.
Secondly there's the rear diffuser which is replaced by a carbon fibre version. By the use of carbon fibre, the 3.6 second sprint to 62 mph (100 kmh) will probably be improved a little bit but no official figures are released yet.
PRESS RELEASE:
The Ventross Nissan GT-R features the same high quality aerodynamics engineering and construction expected from parent company Vorsteiner. The carbon fiber aero components for the Nissan GT-R is slated for market release on June 1st , 2009.
The GTR exterior aerodynamic package consists of two components:
Front Fascia
Ventross has created a new replacement front fascia that incorporates enlarged carbon fiber air intakes for the radiators and includes additional side louver openings that feed air to the brakes through the front fender lining slats. The fascia is completed with an aggressive front spoiler that attaches to the factory under tray optimal fitment strength. The entire front fascia is constructed from dry carbon fiber using Vorsteiner's proprietary dry carbon fiber vacuum technology which maximizes strength while significantly reducing overall weight.
Rear Diffuser
The GT-R rear diffuser has been redesigned to replace the factory plastic version with a more aggressive dry carbon fiber piece that houses 3 integrated diffuser fins with central heat extraction vents to aid in cooling the exhaust system. Like the Ventross GT-R front fascia, the rear diffuser is constructed using Vorsteiner's proprietary dry carbon fiber vacuum technology.
Due to the exceptionally intensive and high quality hand-made process and complexity of the pieces each set will be made to order per GT-R owner rather than mass produced. This is another step Ventross is taking to ensure optimal fitment and quality of work per piece.