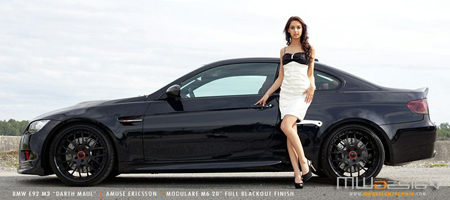 We don't hear much from the world of Canadian tuners. They are certainly few and far between. MW Design have designed a new bodykit for the E92 BMW M3. It's called the 'Darth Maul' and the current details and pictures are of the stage 1 kit with stage 2 to follow at a later date.
The bodykit is almost a work of art. It's low, smooth and looks complete in Jerez Black. It features an Amuse Ericsson Front Bumper with custom Orange highlights as an ode to the famous Star Wars Episode One Sith Lord which the car takes it's name from. The company have also made use of the same brands Ericsson Trunk and added to this a carbon fibre rear diffuser with custom orange highlights.
Carbon fibre is also used in the side vents, again with the custom orange highlights, and in the side mirrors. Black 20-inch Modulare M6 alloys are also present, completely coloured in black and wrapped in Falken tires. These feature the orange highlights as well.
As you can probably tell, the 'Darth Maul' is a collection of tuning parts applied to a donor car. This specific car has no performance modifications, however we have had a look through the MWDesign website and they appear to offer a kits from Dinan, Active Autowerke and European tuning kit's for BMW models.
We really like the car, it seems to correct a few of our reservations about the standard M3. Mainly it's high rear which doesn't particularly fit the sporty image that M division aim to achieve with these cars. Considering there are no plans for a successor to the extremely popular M3 CSL, cars like this are the most exciting variation we can expect from the current 3 series range. Bring on the stage 2 conversion we say!
[Via WorldCarFans via BMW Blog]