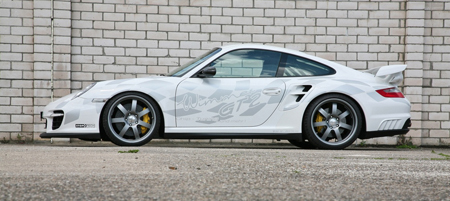 Wimmer Rennsporttechnik Solingen are a pretty minor tuning firm. They mostly supply individual aftermarket  parts for top German brands such as BMW, Mercedes and Porsche. The GT2 we see here marks an entry into a higher level of competition against the likes of Sportec and Techart. This GT2 has been upped from the standard 530hp to 680hp.
They've managed to do this by replacing both turbochargers with their own units as well as changing cylinder heads and camshafts. Then, to make the most out of the adjustments, they have added a new exhaust system and an ECU re-map. 680hp and 870Nm of torque allow the car to reach 100kph (62mph) in just 3.4 seconds. Terminal speed is a hair raising 356kph (221mph)!
To help it cut through the air a little better and handle with more stability, there are a number of aerodynamic upgrades. Most obvious are the exterior mirrors and rear spoiler lip made of carbon, H&R components make the most of the chassis potential. It only costs €30,000 which in our opinion, considering the cost of the standard car and the amount of work to be done, sounds very reasonable!