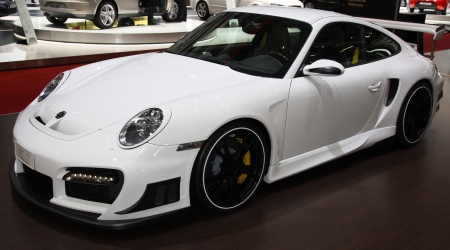 TECHART showed us their GTstreet RS with two newly developed modifications. The GTstreet RS model is based on the Porsche 997 GT2 and has a great number of visual and performance upgrades. TECHART added a noselift system and LED day driving light system to the front apron.
The system consists of only day driving lights and divers from the system used on the Magnum. The noselift system makes common obstacles being a thing of the past. The system lifts the nose about 60 mm ensuring additional ground clearance at the front spoiler. You can operate it at standstill or while driving with automatic lowering at over 37 mph. It is fully integrated in the roof console and operated via a button with status indicator.
Just to give you a recap of the GTstreet RS's statistics. The engine delivers 700 PS and 515 KW with a maximum torque of 860 Nm. This power is achieved through the use of modified turbochargers, enlarged carbon inlet pipes, specially developed intercoolers, a sports flap exhaust combined with high-performance headers, modified pressure sensor and a sports air filter.