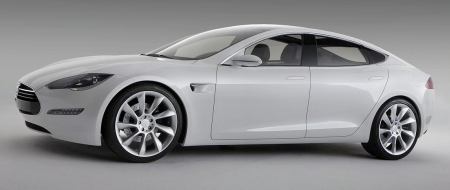 Tesla Motors has received 1,000 reservations for the Model S, an all-electric family sedan that carries up to seven people and travels up to 300 miles per charge. After the launch on March 26th reservations immediately came in. Price tag starts around $49,900. The $5,000 reservation fee is refundable.
Tesla is up to this moment the only production automaker selling highway-capable EVs in North America and Europe. With 0-60 mph in 3.9 seconds, the Roadster outperforms almost all sports cars in its class, yet is more than twice as energy efficient as a Toyota Prius and delivers 244 miles per charge. Tesla has delivered more than 400 Roadsters to customers so far. The base price of the Roadster is $101,500 after a $7,500 federal tax credit.
Next to the Roadster we will see the Model S, a new 5+2 (seating up to seven people), 4-door electric sedan. It does 0-60 mph in under six seconds and will have an electronically limited top speed of 130mph. The sport versions are expected to achieve 0-60 mph acceleration well below five seconds.