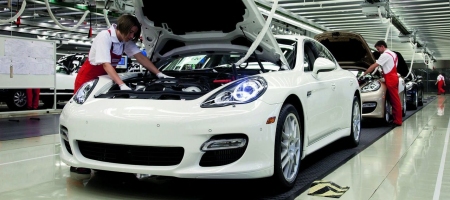 The official release was on April 19 at the Shanghai Motor Show. Porsche confirmed today the production of the new Panamera has started. The family member will be launched in September starting with some European markets. The manufacturering takes place together with the Cayenne SUV on one product line. For this, the Leipzig plant has undergone a 22,000 square meter expansion over the course of two years. No plant tours were possible during the past eight months due to the construction.
Effective immediately, visitors may again experience production up close and personal and have the chance to see the first Panamera vehicles roll off the assembly line in Saxony. The approximately two-hour tours are free of charge, they can also be booked in connection with pilot and co-pilot offers, where participants have the chance to experience the Porsche driving features with a sporty Cayenne SUV on the racetrack or on the off-road premises.
Need more information just visit the official website.