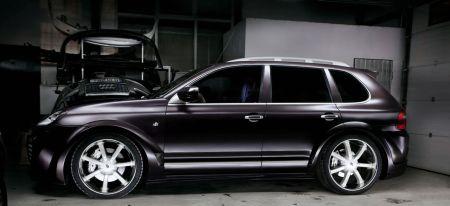 Romanian tuner MAFF, located in Bucharest, is developing a body kit for the Porsche Cayenne. It will enlarge the choice of Cayenne kits. Because the car stays a Porsche, they are planning to upgrade every possible engine with at least 100bhp to a maximum of 700bhp in the Turbo S. The exterior package includes a new front grille with LED daytime running lights.
Combined with headlight masks, a front spoiler, a bonnet with dramatic scoops, side skirts, side mirrors with LED indicators and a roof spoiler which of course is made of carbon fibre they will deliverer something special. Customers will even be able to choose the size of their car's alloy wheels.
The interior is available in full Alcantara leather together with several types of stitching. Next to that there's a range of audio systems that includes names like Alpine. They even allow customers to place LCD screens anywhere they want one.
[via WCF]