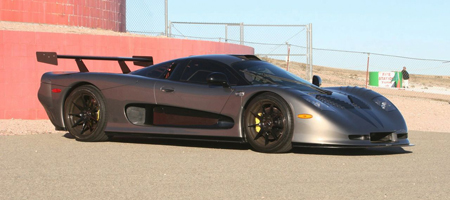 Most people know about the Mosler MT900 and it's combination of low weight and loads of horsepower. The MT900 GTR XX is the ultimate variant of Mosler's current model line. It celebrates the companies 20th anniversary and went on sale last month. Intense Automotive Design have received one of these exclusive cars and have immediately set about bending the laws of physics!
2500bhp is what the car promises. Yes, you read it right! This makes it the most powerful road legal car available. Two times as much as an SSC or Bugatti Veyron. We hear you ask; How is this achieved? Well, Intense Automotive Design have been kind enough to give us an insight into this amazing machine through a full detailed spec list of changes.
The most interesting change is one which has allowed the car to be registered in the US state of California as a hybrid. It runs on a mixture of petrol, methanol, hydrogen, and ethanol which apparently accounts for the huge amounts of power that the spec sheet claims. The price you pay for technology like this? For a start, the racing fuel pumps are capable of delivering six gallons (22.7 liters) per minute! So this isn't ment for long trips!
The whole car has essentially been stripped down, and most parts replaced with one-off parts. Examples of this are the double engine management system and the various IAD engine componants. Of course, these are necessary for such a high performance machine. All these changes allow the engine to spin to 10,000rpm. Theres a huge list of componants used in the Induction/ Ignition/ Transmision, mostly made from the highest quality materials, carbon and titanium feature heavily.
Performance figures read:
0-60mph = 2.5 seconds
0-150mph = 6.7 seconds
0-250mph = 17.5 seconds
1/4 mile = 9.0 seconds
1/4 mile speed = 178mph
0 to 150mph and back to 0 = 8.7 seconds
Braking: 250mph to 0 in 8.5 seconds
It sees the limiter at 305mph because of the rear spoiler and the methanol mix, however the company claim it could be good aerodynamically for over 400mph. Essentially all we need to know is that 305mph would be the actual top speed.
Aerodynamics are another big part of what the 'Land Shark' does. There's modified front splitters, dive planes, air intakes (including roof), a flat floor with air ducting, side vents and a carbon fibre spoiler. The wheels are carbon fibre with a magnesium center and titanium lug nuts. Wrapped around these are Michelin Pilot Sport 2 tires in sizes 285/35R19 PS2 for the front and 345/30R20 PS2 for the rear.
Unfortunately we will have to wait until August to see whether the company makes good on their claims. The car will be appearing at the Bonneville Speed Week where it will attempt to break records in front of the Guiness Book of Records. We have included the full spec list below the gallery…
[Via WorldCarFans]
2009 MOSLER MT900

ENGINE SPECS:
381 CUBIC INCHES
2,500+ HP 10,000 RPM TWIN TURBOCHARGED TERROR
MULTI-FUEL SYSTEM: GASOLINE/METHANOL/HYDROGEN/ETHANOL
3.000″ STROKE WITH 4.500″ BORE
2-MOTEC M880 DIGITAL ENGINE MANAGEMENT SYSTEMS
IAD BILLET CNC BILLET ALUMINUM BLOCK
IAD CERAMIC ROLLER-BEARING CRANKSHAFT AND CAMSHAFT BEARINGS
IAD/BRYANT/KEITH BLACK 4330 KNIFE EDGED, ULTRA-LIGHT ROLLER-BEARING CRANKSHAFT
IAD CNC BILLET TITANIUM CONNECTING RODS
IAD/COSWORTH CERAMIC COATED FORGED PISTONS
IAD 4340 1.000″ DIAMETER .300″ WALL THICKNESS PISTON PINS
1/16-INCH CHILD'S & ALBERT CHROMOLY RINGS
IAD 4-VALVE BILLET CNC ALUMINUM/CERAMIC CYLINDER HEADS
IAD CERAMIC COMBUSTION CHAMBERS & EXHAUST PORTS; BERYLLIUM SEATS
IAD CUSTOM LASER CUT HEAD GASKETS, O-RINGED CYLINDER HEADS
IAD CUSTOM O-RINGED INTAKE MANIFOLD AND CYLINDER HEAD INTAKE SURFACES
IAD/JESEL TITANIUM ROLLER ROCKERS WITH SOLID TITANIUM GIRDLE
IAD/JESEL 3-PIECE .160″ WALL TAPERED 9/16 "-1/2″ MODULAR PUSH RODS
IAD/CROWER PINNED 1.000″ DIAMETER ROLLER LIFTERS
IAD CERAMIC COATED 2.00″ TITANIUM INTAKE VALVES, 1.75″ INCONEL® EXHAUST VALVES
JESEL TRIPLE VALVE SPRINGS, TITANIUM RETAINERS, 4340 LOCKS
IAD BILLET CNC TITANIUM/CARBON VALVE COVERS, POLISHED
IAD TITANIUM ROLLER CAMSHAFT WITH CERAMIC ROLLER CAM BEARINGS
IAD/JESEL BELT DRIVE CAMSHAFT TO CRANK TIMING, WITH TITANIUM GEARS
IAD CNC BILLET TITANIUM/CARBON MACHINED TIMING COVER
IAD HARMONIC DAMPENER WITH INTEGRAL CRANK TRIGGER PICKUP
IAD BILLET TITANIUM/CARBON DUAL ELECTRIC WATER PUMPS
ALL TITANIUM ENGINE HARDWARE

INDUCTION SYSTEM:
IAD CNC CARBON FIBER/TITANIUM INTER-COOLED INTAKE MANIFOLD
4-INJECTORS PER CYLINDER (2) 150 LB., (1) 90LB., AND (1) 60LB.
2-WELDON 34706 6+ GPM MECHANICAL RACING FUEL PUMPS
2-AEROMOTIVE 16302 BILLET FUEL PUMP SPEED CONTROLLERS
4-WELDON A2047 SERIES, HIGH FLOW 10+ GPM BYPASS REGULATORS
2-OCTANE ON DEMAND SYSTEMS
2-IAD DIGITALLY CONTROLLED INTEGRAL FUEL PRESSURE REGULATORS, 2500 CFM
RUSSELL'S BRAIDED STEEL FUEL LINES WITH AN FITTINGS
2-88MM IAD/AEROTECH WATER COOLED CERAMIC BALL BEARING TURBO CHARGERS
2-IAD/MOTEC 65MM PROTOTYPE ELECTRONICALLY CONTROLLED WASTE GATES
IAD TITANIUM EXHAUST HEADERS, FLANGES, V-BANDS
IAD TITANIUM EXHAUST SYSTEM
IAD TITANIUM HI-FLOW CATALYTIC CONVERTERS, MUFFLERS, MOUNTS, HARDWARE

LUBRICATION SYSTEM:
IAD CNC TITANIUM DRY SUMP OIL SYSTEM CAPACITY = 20 LITERS
IAD/MOROSO 5-STAGE DRY SUMP OILING SYSTEM
IAD/MOROSO TITANIUM BILLET OIL PUMP DRIVE
RUSSELL'S BRAIDED STEEL OIL LINES WITH AN FITTINGS
2-IAD CUSTOM HI-VOLUME OIL COOLERS

IGNITION/ELECTRONICS SYSTEM:
IAD/MOTEC FUEL INJECTION SYSTEM
IAD/MOTEC M880 ENGINE MANAGEMENT SYSTEM (DUAL M880 UNITS)
IAD/MOTEC CRANK FIRED IGNITION SYSTEM
MOTEC ON-STEERING-WHEEL MOUNTED HORSEPOWER MANAGEMENT SYSTEM
IAD/MOTEC POWER CONTROL SYSTEM, VARIABLE FROM 800 TO 2,500+ HORSEPOWER
MOTEC ON-STEERING-WHEEL DIGITAL BRAKE BIAS CONTROL
MOTEC ON-STEERING-WHEEL ACTIVE SUSPENSION CONTROL
MOTEC ON -STEERING-WHEEL 12-STAGE DIGITAL FUEL INJECTION CONTROL
IAD/MOTEC CARBON FIBER DIGITAL STEERING WHEEL WITH INTEGRAL DIGITAL CONTROLS
IAD PROTOTYPE 8-SPEED PADDLE SHIFTERS, WITH QUICK-RELEASE
MOTEC PIT-LANE SPEED CONTROL BUTTON
CUSTOM ALPINE 7.1 DOLBY DIGITAL A/V/DVD/MOTEC EMS DISPLAY
LOWRANCE GPS WITH FRONT, REAR, SIDE, 360 DEGREE SKYTM RADAR TRACKING SYSTEM
IN-CAR PCTM MOBILE INTEL CORE 2 DUO 2.33 GHZ
3.5G MOBILE INTERNET 7.2 MBPS

TRANSMISSION SYSTEM:
IAD PROTOTYPE TITANIUM/CARBON FIBER ALL-WHEEL-DRIVE SYSTEM
TRACTION CONTROL BY MOTEC
IAD CNC BILLET TITANIUM 8-SPEED TRANS-AXLE
QUICK-CHANGE GEAR-BOX, 30 SETS OF TRACK GEARS
WELDON K9200-A HIGH TEMP TRANS & AWD OIL PUMP
RUSSELL'S BRAIDED STEEL OIL LINES
IAD TRANSMISSION AND FRONT DIFFERENTIAL COOLERS

SUSPENSION/BRAKING SYSTEM:
ALL TITANIUM SUSPENSION COMPONENTS
PENSKE 3-WAY ADJUSTABLE RACING SHOCKS
FULLY ADJUSTABLE FRONT AND REAR AND SWAY BARS
CNC MACHINED SOLID DELRINTM SUSPENSION BUSHINGS
CARBON FIBER/CERAMIC 400MM DIAMETER BRAKE ROTORS
8-PISTON, LIQUID COOLED, CNC BILLET CALIPERS

AERODYNAMICS:
FRONT SPLITTER FOR MAXIMUM DOWN-FORCE
FRONT LEFT AND RIGHT DUAL DIVE PLANES
LEFT AND RIGHT SIDE POD AIR INTAKES AND OUTLETS FOR OPTIMAL COOLING
ROOF CANOPY AIR-INTAKE WITH SCOOP
MID UPPER BODY SECTION LEFT AND RIGHT AIR INTAKES
FLAT BELLY PAN WITH FULL LENGTH AIR DUCTING CHANNEL FOR MAXIMUM DOWN FORCE
REAR DECK LID SIDE VENTS
REAR FULLY ADJUSTABLE CARBON FIBER REAR WING

WHEELS:
DYMAG CARBON FIBER, MAGNESIUM CENTER, TITANIUM LUG NUTS
FRONT 11.5″ X 19″
REAR 14″ X 20"

TIRES:
MICHELIN PILOT SPORT 2
FRONT 285/35R19 PS2
REAR 345/30R20 PS2

COCKPIT:
ALL INTERIOR SURFACES ARE POLISHED, CLEAR COATED, CARBON FIBER
CUSTOM PROTOTYPE DESIGN CARBON FIBER SEATS
SCHROTH TITANIUM 6-POINT SEAT BELTS
DUAL CARBON FIBER FUEL CELLS FOR FUEL/METHANOL
REGISTERED AS A "HYBRID" VEHICLE DUE TO THE MULTI-FUEL ENGINE….
I WILL GET TO DRIVE IN THE DIAMOND LANE….. HA! HA! HA!
FUEL CAPACITY, GASOLINE = 100 LITRES
FUEL CAPACITY, METHANOL= 40 LITRES

ALL VEHICLE COMPONENTS (EXCEPT A VERY FEW INTERNAL ENGINE PARTS) ARE CARBON FIBER, KEVLAR, AND TITANIUM
…… NO OTHER MATERIALS USED …….

THE TRENTEK CHASSIS IS THE WORLD'S STIFFEST, LIGHTEST AND MOST COST EFFICIENT CAR CHASSIS. MADE OF COMPOSITE CARBON FIBER/HONEYCOMB KEVLAR, THE TRENTEK CHASSIS FOR THE MT900 WEIGHS IN UNDER 90LBS, (LESS ENGINE, TRANS, WIRING, SUSPENSION, ETC.) AND COULD BE PUT TOGETHER, BY HAND, IN APPROXIMATELY 20 MINUTES, ELIMINATING THE NEED FOR AN EXPENSIVE ASSEMBLY LINE. THIS CHASSIS IS OFFERED EXCLUSIVELY THROUGH TRENNE TECHNOLOGIES, INC. AND TEKLAM CORPORATION. VEHICLE WEIGHS 777 KILOS (1,709 LBS.), WITHOUT FUEL

ACTUAL TOP SPEED = 305 MPH+
CFD/FEA CATIA V5R19, THEORETICAL PHYSICAL TOP SPEED = 375 MPH+
CFD/WIND TUNNEL WITH IAD AERODYNAMIC MODIFICATIONS
COMPUTATIONAL FLUID DYNAMICS VERIFIED AERODYNAMICALLY SOUND AT OVER 400 MPH (AFTER EXTENSIVE IAD AERODYNAMIC MODIFICATION)
(CFD/FEA CATIA V5R19 VERIFIED WITH IAD AERODYNAMIC MODIFICATIONS-AERODYNAMICALLY LIMITING VEHICLE TO 305 MPH, WITH REAR WING ATTACHED)

TOP SPEED = 375 MPH+ WITH 118 OCTANE RACING FUEL, WITH IAD AERODYNAMIC MODIFICATIONS
LIMITED TO 305 MPH, WITH REAR WING ATTACHED, GASOLINE/METHANOL FUEL MIX
0-60 MPH = 2.5 SECONDS
0-150 MPH = 6.7 SECONDS
0-250 MPH = 17.5 SECONDS
1/4 MILE = 9.0 SECONDS
1/4 MILE SPEED = 178 MPH
ZERO TO 150 MPH AND BACK TO ZERO = 8.7
BRAKING: 250 MPH TO ZERO IN 8.5 SECONDS

SPECIFCALLY DESIGNED AS THE WORLDS FASTEST PRODUCTION VEHICLE

IT'S SCHEDULED TO RUN AT BONNEVILLE SPEED WEEK IN 2009, FOR THE GUINNESS WORLD BOOK OF RECORDS PEOPLE, AND WHEN CONFIRMED, IT'S OFF TO NURBUGRING, WHERE MICHAEL SCHUMACHER (IF EVERYTHING GOES AS DISCUSSED) WILL PUSH IT AS HARD AS POSSIBLE.

IT'S CURRENTLY SCHEDULED FOR SEVERAL FEATURE FILMS, SEVERAL MUSIC VIDEOS, STILL SHOOTS, AND COMMERCIALS… AND LOT'S MORE!