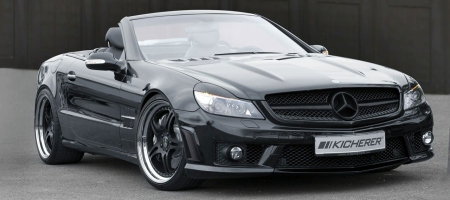 Germany is the country of the tuning world. However it looks like it, because the number of tuners from this European country is stakking up. Kicherer is next. They transformed a Mercedes SL 63 AMG into the SL 63 RS. Whilst the 6.2 litre large V8 engine in the standard model produces 525hp and 630Nm of torque, Kicherer boosts 560hp and 670Nm out of the high performance machine.
Simultaneously they are offering a Vmax-upgrade, which disables the electronic brakes at speeds of 250km/h. To counter this the ABC-suspension has been electronically adapted to meet the increased demands and equipped with more sporty lines. Kicherer has also improved the brakes by installing a high performance braking system.
The tuner has applied an exterior package with a lot of carbon fibre. It contains a new front spoiler, LED daylight driving lights, headlight blenders, a new front grill, a bumper on the front wings along with special mirror covers and a new shaped rear diffuser. At the back you will also find a new sports exhaust system with four exhaust outlets.
If you check the boot lid closely you will notice the new integrated spoiler, also made of laminated carbon fibre. It should increase the down force on the rear axle. The transformation is rounded off with 20 inch large light metal wheels, which at the front have 255/30 tyres and at the rear 305/25 tyres.
Carbon fibre is also used for new decorative parts in the interior. The tuner has added a new sports steering wheel to the package.