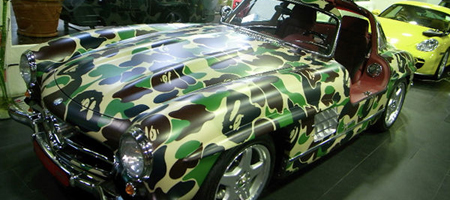 Rather Ironically, this butchered 300SL 'Gullwing' is now the property of NIGO, the Japanese fashion tycoon. We can't think of anything thats less tasteful (except perhaps his Veyron and Phantom). Not only has he wrapped the car in Camo, AMG have also switched the engine to a modern 6.0 litre V8.
Were not quite sure where the 6.0 litre V8 came from, as far as we can see Mercedes or AMG don't currently fit a 6.0 litre to any of their production cars. Our guess is that the engine was bored out from the 5.4 litre V8 found in the SLR or detuned from the 6.2 litre engine in the SL63 AMG.
As you've probably worked out by now, theres very little information about the car other than what we can tell you from the pictures. It seems NIGO has spent some serious money on modifying the car. If you look carefully you can just make out the Gorilla head branding of NIGO's company 'A Bathing Ape' in the Camo.