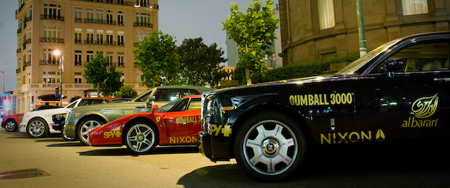 The 2008 Gumball 3000 has not even kicked off yet or Gumball HQ released their plans for Gumball 2009. With no entrance fee mentioned it will be interesting to see how much they charge for the first Gumball 3000 since the 2005 rally that doesn't involve some kind of air transport. What do you think? How much would you be willing to pay to sightsee most of the I-40 and I-10 with US law enforcement becoming more and more aware and against road rallies?
Update: At 22,500 pounds or $ 45,000 dollar it doesn't come cheap…
Press release: Gumball 2009 Route Announced!
"Coast to Coast"
Los Angeles to Miami!
With the 2008 event almost upon us, we're ready to announce the route for 2009. Following this years 'around the world' extravaganza, for 2009 we have decided to put on a classic "coast to coast" road trip, driving from sea to shining sea, from the Pacific to the Atlantic, from Los Angeles to the partying capital of the world, Miami!
With key check-points and parties on route in Las Vegas, Santa Fe, Dallas, and New Orleans, the 2009 event will combine automobiles with music, film, and entertainment throughout the 3000 miles, closing the streets in each city to create a full-on Gumball festival!
It will be 6 years since the Gumball last fully took place within the US, and since then Gumball has grown considerably.
"It's going to be exciting to bring it back to the States – we're going to put on a show that no one will forget" Maximillion Cooper.
The dates of the event have been brought forward to Gumball's traditional first week of May (2nd-7th). God bless America…..
The latest on Gumball 3000 can be found in our Gumball 3000 forum.