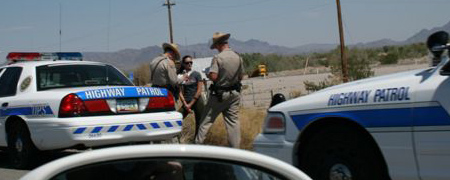 Just got word from Ashley van Dyke running at this year Bullrun in a Corvette Z06. She got pulled in Arizona and kept in handcuffs for over an hour before being released with a $600 ticket. She's now limping to the checkpoint in Tuscon. We already found a warning send out to troopers in Arizona posted at the Bullrun forums: "Be on the look out for a bunch of "higher end" cars racing on the the 101 or 51 or I 17. From Friday 12pm till sun . Don't want another showing of a guy doing 219mph in Arizona. Watch out for miss coding."
Ashley was fourth to arrive at West Coast Customs this morning. The Team Streetfire Cobra had a busted oil cooler and were towed to LK Motorsports, they hope to catch up later.
Update: Team Streetfire is back on the road in a Nissan 350Z.