What a start for the Great American Run! And what a start for # 34 Team Tangospeed – GTspirit.com. Yesterdays route went from Miami to New Orleans. A very long first leg with a length of more then 1400 km (870 miles). The participants drove via Venice and Tampa to the 'Big Easy'. After crossing four states, HeCe 'Sisu' Tangospeed and Des 'the flying dutchman' GTspirit arrived SECOND!!! at 4.15 am local time. Only the fabulous Molly Saleen in her Molly-Pop-Mustang arrived 5 minutes earlier at the checkpoint.
But the night to day 2 of the Great American Run had its price…280 Dollar and 50 Cents to be precise.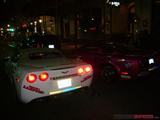 Bad luck stroke Team Prowler / Team SRT 8. They arrived last at the New Orleans checkpoint at 11.35 am local time. They had trouble with their car back in Miami and first had to strip parts from a rental car and install them on their car, before they could set off for New Orleans a couple hours after the others.
Today the participants of the Great American Run have the rest of the day off. After the morning and afternoon to sleep and relax they will have some drinks at 6.00 pm and dinner at 8.00 pm tonight. Tomorrow there's a new driving day!
More pictures and updates can be found in our Cannonball Run Forum!