The Great American Run is on its way!!! First stop for the Miami starters is 'the big easy' New Orleans. That means an insane first leg of 1400 km (870 miles). The first checkpoint will be The Astor Crowne Plaza. The Astor Crowne Plaza is the gateway hotel to New Orleans' most exciting destination – the world famous French Quarter. Located where Bourbon Street meets Canal Street, The Astor Crowne Plaza allows for quick access to both the excitement of Bourbon Street.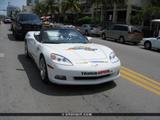 #34 Team Tangospeed – GTspirit.com drivers HeCe and Des are providing us with the hottest news during the Great American Run. Here the latest updates:
Update 1:
12.40 am CET – 6.40 pm Miami time by Des
On the road to the Astor Crowne Plaza Hotel in New Orleans. We're given special route to drive. Grid consisted of two Porsche 997 Turbos, Ferrari 612, two BMW M5 and a lot of Corvettes and Mustangs! We are driving on the 175 north now, heading for Venice and Tampa.
Update 2:
02.29 am CET – 8.29 pm local time by Des
Driving with white A4, Molly in the Sallen and some huge pick-up truck after Venice on the I-75 towards Tampa.
Update 3:
03.34 am CET – 9.34 pm local time by Des
Still going, 3 hours and 30 minutes since start. Team #333 Half Evil just caught up with us after their stop for gars. We are about 30 minutes from our first gasstop.
Update 4:
04.16 am CET – 10.16 pm local time by Des
Just had first stop for gas, did 320 miles in 4 hours. We are 80 miles from the exit onto the I-10 that leads us all the way to New Orleans through 4 states!
Update 5:
05.20 am CET – 11.20 pm local time by Des
Just hit the I-10. Haven't seen any other Cannonballers since our first gasstop about one hour ago.
Update 6:
06.34 am CET – 12.34 am local time by Des
Team 49 in 300C got pulled over in front of us. Saw some other troopers, but they didn't stop us. Other then Team 49 we haven't see anybody in ages.
Update 7:
07.57 am CET – 1.57 am local time by Des
Just got pulled over, because HeCe was doing 100 mp/h on 70 mp/h road. We were one of the first cars.
Update 8:
08.09 am CET – 2.09 am local time by Des
Ticket numero uno: 97 in a 70 = 280 dollar and 50 cents. Delayed us 15 minutes, while 7 other cannonballers flew by …
Update 9:
08.58 am CET – 1.58 am local time by Des
Red Mustang convertible was pulled over by two cop cars just before Alabama state line. We must be among top 5 and were probably in first position before ticket.
Update 10:
10.20 am CET – 3.20 am local time by Des
Almost through Mississippi now. Just passed red Corvette. Didn't see any other Cannonballers in about an hour now.
Update 11:
10.28 am CET – 3.28 am local time by Des
We are driving for 10 hours and 20 minutes now, stopped two times 5 minutes for gas and got stopped for 15 minutes by cop for speeding.
Update 12:
11.56 am CET – 4.56 am local time by Des
At 4.15 am we turned up 2nd at the checkpoint New Orleans after Molly Saleen. Good first day, only took us bit more then 11 hours. 1 hour time difference between Miami and New Orleans. Time for a beer now!