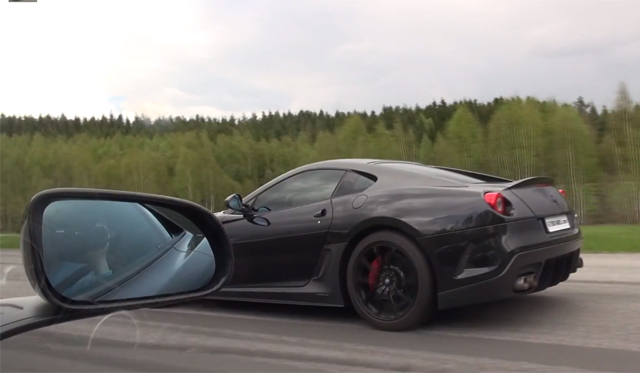 The 2013-specification McLaren 12C has shown itself to be significantly faster than the Ferrari 458 Italia in a straight line, but how will the insane British supercar fare against a Ferrari 599 GTO and a BMW S1000RR superbike?
Well, m5boarddotcom on YouTube have definitively answered that question with their latest rolling drag racing video on an abandoned runway and the result may surprise you! We won't ruin the race, so you'll have to watch the video below to see which vehicle triumphs!
The 3.8-liter twin-turbo V8 in the 2013 McLaren 12C now features 625hp and 600Nm of torque which makes for a zero to 100km/h time of just 3.1 seconds. To 200km/h it takes 8.8 seconds while top speed is a mesmerising 332km/h.
The transmission is a seven-speed dual clutch unit which receives the 2013 mapping, designed to increase shift time and responsiveness. Compared to the 2012 model, the 2013-spec McLaren 12C feels very crisp with power available on demand. As you would expect with a dual clutch system, the shifts are instantaneous.
The 2013 McLaren 12C also features the same carbon fiber MonoCell chassis as previous model year 12C's. The complete cell weighs just 75kg and was designed with the convertible model in mind so McLaren didn't have to strengthen it in any way for the Spider variant.