Last year was the 70th anniversary of Ferrari and they celebrated it by creating 350 special vehicles with unique configurations inspired by the most iconic cars of the brand. The "70th anniversary Tailor made collection", aimed at Ferrari closest customers. One avid GTspirit reader from Chile is such customer and he shared his story with us.
Its owner Mr.Solis (@ffss.cl on Instagram) took delivery of the only 70th anniversary model coming to Chile and one of only four in entire Latin America. It is a Ferrari 488GTB 70th anniversary inspired by the 375MM Pininfarina Berlinetta "The Ingrid". The 1954 375 MM Pininfarina Berlinetta is a one-off model originally commissioned by film director Roberto Rossellini for actress Ingrid Bergman. This is the car that gave Ferrari's iconic Grigio Ingrid its name.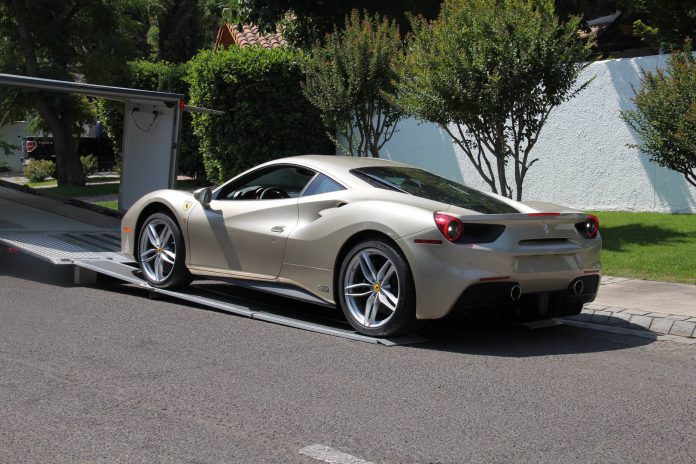 This time for the exterior color it was given a three layer finish, offering a profound iridescent effect to this historic color, renamed this time as "Grigio Ingrid Triplo Strato". A complete bespoke interior has also been included on this car: black leather combined with Connolly Vaumol, seats with historic ribbed pattern. In addition all interior pieces are finished in the exterior color. The total bespoke options in total exceed $120.000 USD.
Mr Solis points out: "More tan the car itself or the configuration it has, you are buying a piece of the history of Ferrari that I plan to keep and enjoy for the rest of my life. Special thanks to Ferrari for giving me the opportunity to buy this car and thanks to all people involved on this"
Last September the factory auctioned off a Ferrari 488 Spider 70th anniversary called "The Green Jewel" which sold for a stratospheric price of USD $1.300.000.
For more pics and information about this car, its delivery and about his next cars upcomming you can check Mr Solis instagram account @ffss.cl.
Join Mr. Solis and other supercar owners from around the globe by signing up to the GTspirit Owners Club!