The G-Wagen by Mercedes-Benz is not exactly an exercise in modesty: The new model generation, entirely re-engineered but true to the original, recently launched as the G 500 with a V8 twin-turbo and 422 horsepower. That's good, but obviously not enough for owners of the previous model's AMG version. So here's the new AMG G 63, powered by a derivative of the same 4.0-liter V-8 that is rated at a remarkable 585 horsepower,channeled to all wheels through a 9-speed automatic and a rear-biased all-wheel drive system. Torque rises from 610 to 850 Nm.
This awesome power translates into noteworthy performance: The sprint from 0 to 100kph takes a mere 4.5 sconds, down from the G 500's 5.9. Top speed rises from a governed 210 to a governed 220 kph, and it can be raised at further cost to a governed 240kph. We can't say we are impressed by the self-imposed speed limits, particularly since competing top-luxury SUVs are approaching or surpassing the 300kph barier.
But the G-Wagen was always a different animal altogether. Its off-road capabilities are nothing short of unbelievable, and much of its appeal comes from the extremely utilitarian look, which the design department has masterfully preserved even though not a single body panel or glass area is shared with the predecessor.
For visual effect, the AMG G 63 get a distinct grill, which opens upon at the bottom ever so slightly. The wheel arches are wider, and wheel sizes up to 22 inches are available; with the largst wheels, this G-Wagen would feel entirely at home in a hip-hop video, and we feel the 21-inch wheel look more harmonius.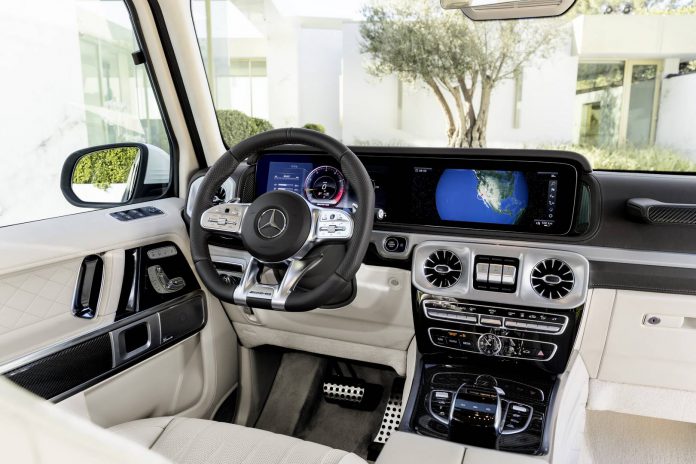 There is a plethora of comfort and assistance systems designed to carry the G-Wagen into modern times. We know for sure that this G-Wagen is a much more precise tool than before, but it also ffers a farmore comfortabl ride. Passenger room is more generous, and the new AMG G 63 offers much more room for seating in the rear.
But our favorite part hasn't changed: It's as loud as ever, with a menacing rumble emtting from dual sidepipes left and right. Did we say it was modest?