Fancy something really off the wall? Look no further than the Manhart MHX6 Dirt² Concept. Just 5 will be produced. Each one will feature some serious off-road styling. BMW's X6 has never looked meaner!
The Manhart MHX6 Dirt² Concept is, as the name suggests purely a Concept at this early stage. With production intent, Manhart will develop a road-legal version of this insane mid-size crossover SUV.
Manhart fans will remember the original X6 Dirt, built on the platform of the first generation BMW X6 and debuted at Essen a few years back. The Manhart MHX6 Dirt² Concept is the second generation version of that project. Whereas, the first generation car looked relatively restrained, Manhart have gone all out for the second generation.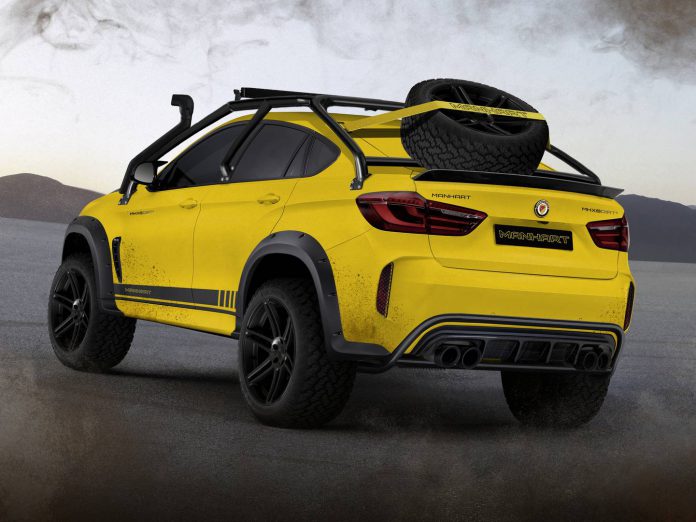 The 4.4 litre V8 engine is dialled up to '11'. A series of power upgrades pushing the power to 900 hp and 1,200 Nm of torque. New pistons, connecting rods and upgraded turbochargers handle most of the work. A new carbon air intake also takes care of increased cooling requirements. The car has also been fitted with a new Manhart Exhaust system and they tell us that it's properly loud!
No interior photos for now but Manhart promises to fit bucket seats in the MHX6 Dirt², at the rear there will be individual seats as well. Another interesting feature on board the MHX6 Dirt² is a fridge to cool drinks during a drive in the hot dunes.
The MHX6 Dirt² gets a heavy duty transmission and a strengthened rear axle. Brakes are also suitably uprated to handle the extreme power. Suspension modifications include a new set of KW springs which push the rid height up. In combination with a set of 21 inch wheels and 305×40 BF Goodrich all terrain tires, the ground clearance should be good enough for heavy off-roading. A a limited slip differential should also help!
The MHX6 Dirt² Concept makes the biggest impression from the outside though. An external roll cage covers the passenger compartment of the X6. It includes space at the rear to fit a spare wheel. Heavy duty underbody protection panels and an optional bull bar with winch cater for the rare circumstances the MHX6 Dirt² Concept might get stuck. Snorkels allow for increased wading capability. To complete the visual assault, Manhart fit a full carbon hood.
An alternative to the common-place G-Class? Quite possibly. The pricing makes an imposing statement too. Customers will need to stump up 395,000 euros for the most capable X6 ever built. Still, it should be more at home in the deserts of the middle east and the wastelands of Siberia than any other X6 in history! Manhart quote delivery times of 6-8 months for the custom SUV.