This year Dodge has added a few new models to it's popular Challenger lineup. Besides the bat-crap crazy Demon (that we're trying desperately to get our hands on) Dodge has released what they call the Challenger GT. The GT takes the standard but capable SXT platform and adds all-wheel drive and improved suspension. Perfect for both performance and northern climates, it's affordable all-season performance should bolster the lineup nicely. We had a chance to drive one for a few days and immediately found the advantages the AWD system adds to the already impressive entry-level car.
The GT only comes with the phenomenal 3.6L V6 engine. While everyone's knee-jerk reaction with the Challenger is to seek out the highest horsepower engine available, the lowly, entry-level 3.6L is an absolute firecracker of an engine. Strong, torquey, and eager to rev, it may not smoke the tires every time you stomp on the throttle but it's a satisfying and impressive engine with a lot of mid- and high-range power and it's a surprisingly good fit for this car. It also gets 18mpg in the city and 27 on the highway. Little surprise that it's the most popular engine choice. The power numbers – 305hp and 268 lb-ft of torque – don't sound impressive, but the car moves with authority and immediacy, as if someone forgot to tell it that it wasn't a V8. What does sound impressive is this engine when you're really working it.
The engine power is routed through an 8-speed automatic and the new AWD system. The AWD system isn't engaged all the time but comes into play when the car senses that it's needed. Environmental conditions like freezing temperatures and rain will activate it. Manually selecting "Sport" mode or engaging the Track Pack performance launch control engages it. And any kind of aggressive full-throttle driving will engage it. Slogging down the freeway in July will not. So it only comes into play when you need it, which is nice, because it's more fuel efficient running just the rear wheels instead of all four.
How well does it work? It works pretty darn well. While the SXT we drove last year impressed us with it's rapid acceleration and road holding, the GT only felt slightly quicker but it felt more sure-footed and confident. We could throw it into corners and with all four wheels scrambling for grip, it never felt like we were in any danger of losing control, even on wet roads. Even with the ESC shut off, the rear end might slip a bit but it never gets away from you too much. The car always felt glued to the road and it gave a real feeling of security. We didn't get a chance to drive it in the snow, but I suspect it would be an unstoppable monster.
The suspension on the GT was a pleasant surprise. It's the identical suspension that comes with the police pursuit package Chargers. It's a heavy-duty, performance-oriented setup that provides good balance, ride, and performance. The GT is the only Challenger to come with this suspension setup and it truly sweetens the deal.
Much like the SXT, we enjoyed driving the GT. Challengers are comfortable cars to drive and they don't drive like the big cars that they are. They're surprisingly maneuverable. Loaded with amenities like well-bolstered seats for performance driving, three different ESC modes, cruise control, traction control, a really good stereo, bluetooth phone controls, paddle shifters, launch control, sport mode, UConnect with Dodge's Performance Pages app that provides multiple digital gauges and performance readouts, several cup holders, the Challenger is a loaded and user-friendly car. The driving position is comfortable and all the control are easily within reach. The backseat, while tight, offers lots of storage space. The trunk is voluminous.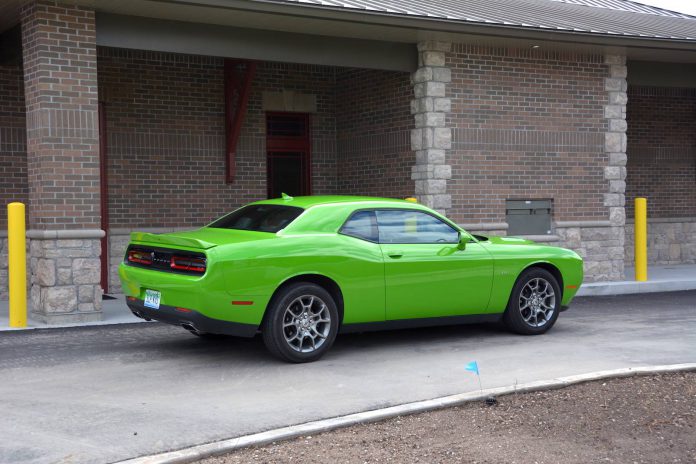 It also gets a lot of attention, especially in a color as brazen as the "Go Green" our car came in. We got a lot of compliments on the car and the color over the week we had it. Unfortunately, we found ourselves watched pretty closely by the local police too which means we had to pick and choose our moments to drive like complete hooligans. I mean, look at it. The car practically demands that you push it. So we carefully did our due diligence and thoroughly tested out the Sport mode, the launch control, the AWD with one eye looking over our shoulder. It's amazing that such a large and heavy car offers so much performance for so relatively little money.
The Challenger has been an extremely popular model for Dodge since it's reintroduction. Not only does it recall some of the nostalgia of the classic muscle car years of the '60's but starting at $33,395 it's a really good performance bargain that now makes sense as a year-round car in northern and rainy climates and anywhere else you might need maximum traction.