The Cadillac ATS-V was first introduced in 2016 and signaled Cadillac's continued commitment to produce serious luxury performance cars. Despite only having been on the market for a little over a year, the ATS-V has already marked its claim as a solid alternative to the European sports sedans and coupes that have dominated the market for decades.
While Cadillac's CTS-V has been known for big horsepower figures and V8 track presence, the ATS-V ditches the V8 in favor of a much lighter, more economical twin-turbo V6. And while some enthusiasts may scoff at the loss of two cylinders, we found the engine to not only be incredibly responsive but also fun to drive in just about all driving conditions. The 3.6-liter twin-turbo V6 in the ATS-V produces a solid 464-hp and 445 lb-ft –- more than enough to get up and get out of its own way. And more than enough to lay as many black lines on the pavement as your wallet can handle. Cadillac offers two transmission options with the ATS-V – either a six-speed manual or an eight-speed automatic with steering column mounted paddle shifters. Our tester was provided with the six-speed manual.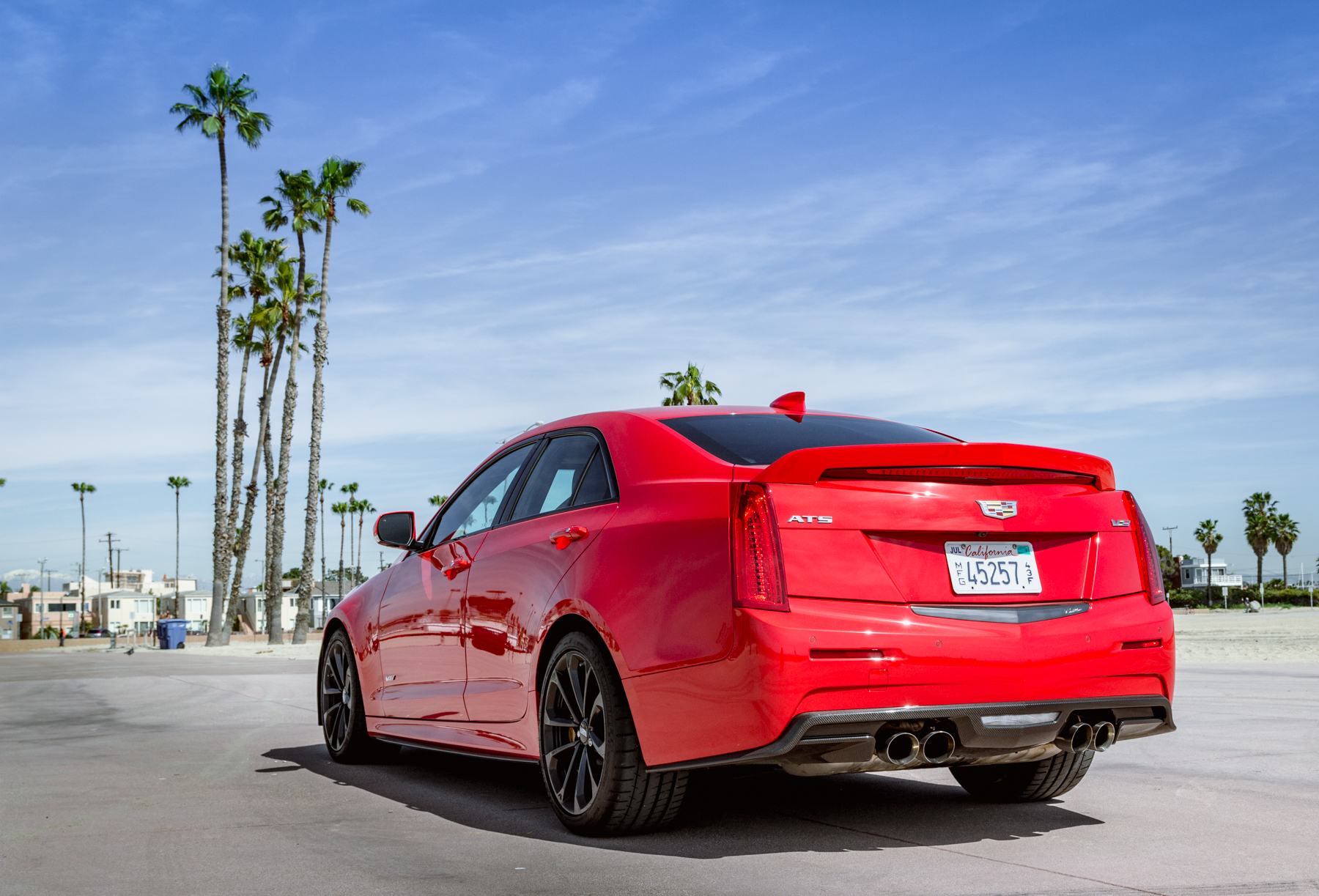 One of the more interesting options that comes equipped with all manual transmission cars is a feature called Active Rev Match. When activated (using either of the two paddles behind the steering wheel), the cars computer will automatically perform a perfect downshift as you grab a lower gear. We found the feature to work without issues during both spirited and around-town driving. For those wanting to heel-toe, the feature is easily turned off. We found the pedal placement to be adequate to heel-toe, although we will admit getting your downshifts as perfect as the computer is not a skill many will possess. Also included is a No Lift shift feature that allows you to keep your foot planted while upshifting. Neat stuff.
The exterior of the ATS-V carries with the same design language that we have seen throughout all current year Cadillacs. That is to say the styling is suitably aggressive and sporty for the kind of performance packed into the skin of the ATS-V. Standard exterior options on the ATS-V include a carbon fiber (functional) hood vent. It is actually quite fun to watch the heat haze rise out of the vent as you are stopped at a light. Well, maybe that's just us. Our car was equipped with the Carbon Black Package which includes 18" After-Midnight dark finish alloy wheels as well as a dark finish front grille and rear fascia applique in addition to low-gloss carbon fiber interior trim, a sueded microfiber steering wheel and Recaro front seats for both driver and passenger.
2017 Cadillac ATS-V Exterior
For those who have checked out our review of the CTS-V released last week, many of the interior features and options of the ATS-V carry over from its big brother. Our car included options such as the Performance Data Recorder, Head Up Display and Recaro front seats just to name a few. As with the CTS-V, we found all of these features to be must-have options if you plan on tracking the car or doing any kind of performance or competition driving.
In terms of interior design, the ATS-V carries over much of the same Cadillac design language as we've seen in other cars. The CUE infotainment system worked without flaw and the included Apple CarPlay and Android Auto functionality was seamlessly integrated. As with all Cadillac vehicles, owners can opt to purchase monthly access to the built-in 4G LTE WiFi. For commuters and professionals who spend large amounts of time in their car, having access to WiFi anywhere you go is a must-have quality of life option in our opinion.
2017 Cadillac ATS-V Interior
The interior footprint of the ATS-V is noticeably smaller than the CTS-V. Which is what you would expect from a car with a physically smaller footprint. The interior, despite being smaller than the CTS-V, is far from cramped or claustrophobic. In many respects, we found the interior and exterior footprint of the ATS-V to be more accommodating to performance driving. We remained comfortable on both long and short drives and in sporty/relaxed driving conditions. In fact, with our car being optioned with the six-speed manual we found the pedal and shifter layout to be very well done. Our only gripe was that if you put a water bottle or any kind of drink that is larger than a tall Starbucks cup an in the cup holders you will hit it with your hand or arm when you shift.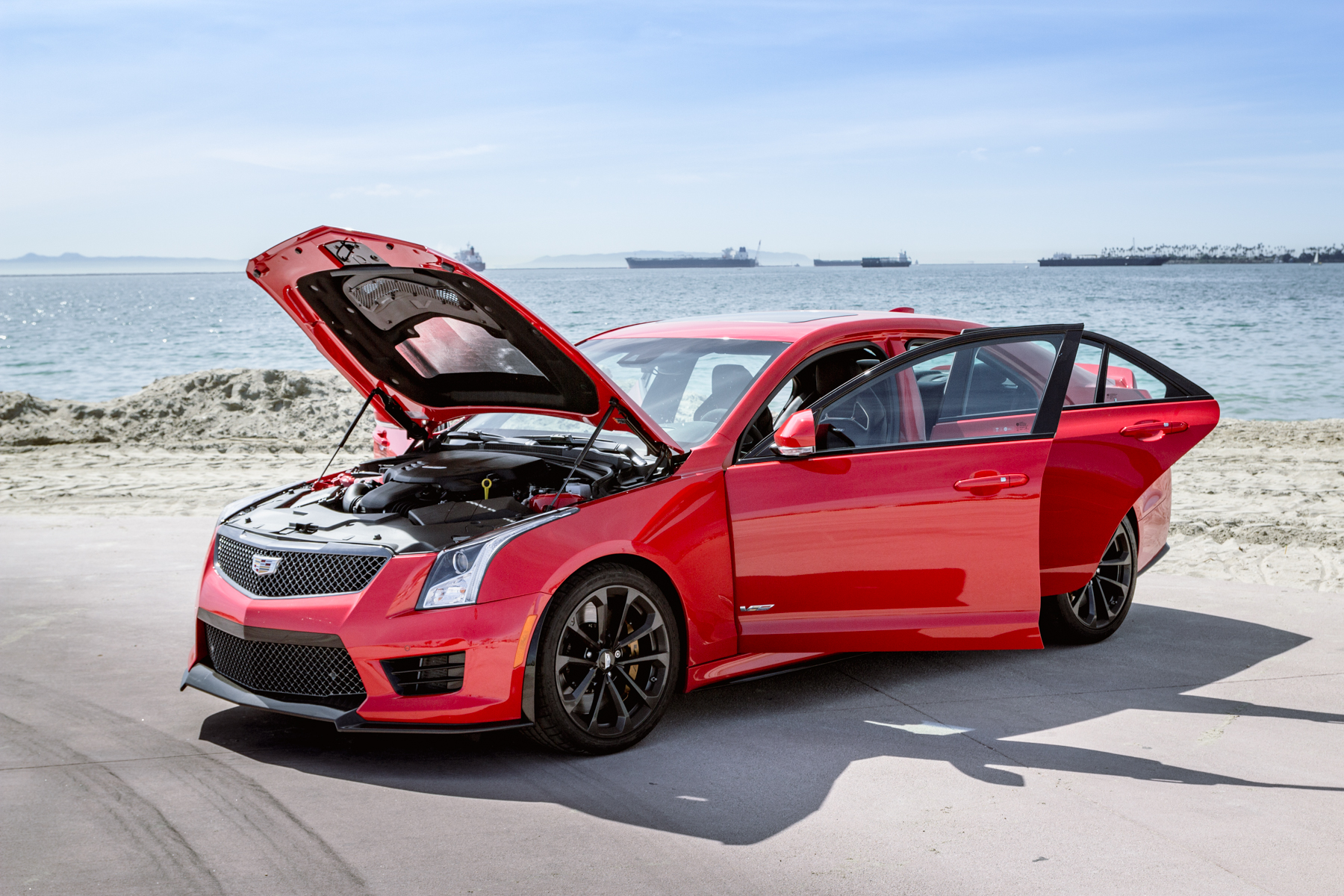 But cup holders are the least of the concern with a car that produces 464-hp and has a top speed of 189 mph. Believe it or not, we found the ATS-V to be considerably louder in terms of exhaust sound when cruising in Tour mode. As with the CTS-V, the ATS-V features four driving modes – Tour, Sport, Track and Snow/Ice. It can be difficult to make a V6 sound meaty and substantial, however the engineers at Cadillac have managed to achieve both with the ATS-V. The car sounds good. The sound rises all the way through the rev range up to the rev limit – encouraging you to grab another gear so you can hear the march of sound all over again. We loved the combination of six-speed manual and the light, responsive power delivery of the V6. It was an agile, fun and responsive driving experience at just about all speeds. This felt like more of a driver's car to us than the CTS-V did. Although we imagine a lot of that is down to the fact that this car was spec'd with a manual transmission as opposed to the eight-speed automatic.
The ATS-V comes equipped with Cadillac's Magnetic Ride Control, which we loved just as much on the ATS-V as we did on the CTS-V. It does an amazing job of providing not only a sporty, firm ride but also a comfortable, relaxed ride when desired. Cornering is flat and compliant with no twitchiness in the steering or chassis that we could find during normal sporty driving. The car doesn't do anything that would surprise or scare you during high performance situations. Which, in a car that go 189 mph and hit 60 mph in 3.8 seconds, is a very good thing. We personally liked the driving dynamics of the ATS-V more than rivals such as the Lexus RC F.
Despite only being on the market for two years, the ATS-V has already made its mark on the luxury performance segment. The ATS-V offers a sporty, performance oriented sedan that includes an excellent balance of handling, comfort and overall excitement. We're a fan.