When Cadillac first introduced the CTS-V back in 2004, it was pegged as being a luxury performance bargain that would give the Germans a run for their money. The first generation of the V-badged CTS was powered by a 400-hp 5.7-liter V-8 taken from the Corvette. That original version of the CTS-V was built as an out-and-out enthusiast car, with the only transmission option being a six-speed manual.
After taking a solid foothold in the performance market, Cadillac released a revised and refreshed version of the CTS-V for the 2009 model year. This updated version of the car offered more horsepower and more performance thanks to Corvette ZR1 sourced 556-hp 6.2-liter V-8. This new generation also ushered in a plethora of performance tweaks and upgrades such as Magnetic Ride Control that, when put together, helped the second-generation of CTS-V outshine even the staunchest of German competition. In fact, the second-gen CTS-V easily beat the quarter mile times laid down by performance stalwarts such as the BMW M5 and Mercedes-Benz E63 AMG.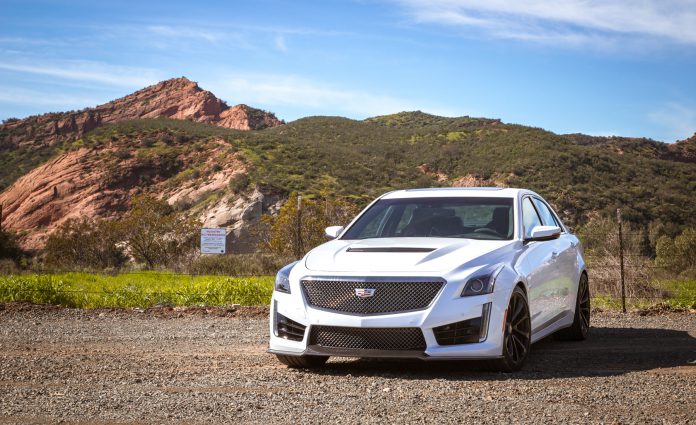 While the second generation of CTS-V was nothing to scoff at, Cadillac's latest generation of V-equipped CTS takes the performance bar and raises it once again. The third generation model was released for the 2017 model year and features, amazingly, even more horsepower than the second-generation car. The new Corvette-sourced 6.2-liter supercharged V-8 in the 2017 Cadillac CTS-V produces a whopping 640 horsepower and 630 lb-ft of torque. Power is sent solely to the rear wheels either through a six-speed manual or a new eight-speed automatic transmission. All of this additional power means the current-gen CTS-V will easily reach a top speed on the north side of 200 mph.
So what does all that power mean on the road? In short – it's a helluva lot of fun.
The moment you press the start engine button the CTS-V burbles to life with that tell-tale V8 noise that only means one thing – performance. The engine itself is a wonderful piece of engineering in its ability to not only provide massive horsepower at the drop of a hat but to make all that horsepower usable on a daily basis. The day our review car arrived from Cadillac it was dripping with rain outside. But rather than writing a story about how we wrapped the car around the tree or were too scared to even approach the throttle, the story was quite the opposite.
While the CTS-V's extremely grippy Michelin Pilot Super Sport tires aren't ideal in wet conditions, we had no issues with loss of traction during normal, non-aggressive driving. Step on the accelerator with a bit more oomph, however, and expect the tail to step out on you. Cadillac's Performance Traction Management system does an excellent job in keeping all four wheels on the black stuff, as they say, in both wet and dry conditions.
Dry weather is really where the CTS-V shines, though. Unleashing all 640 horsepower is something akin to mainlining heroin. It is the most addicting thing in the world. This car is a 4,141 lb caffeine supplement. It will wake you up in the morning, Starbucks be damned. So save yourself from waiting in line for coffee and buy a CTS-V. Your wife will thank you for saving so much money on coffee.
2017 Cadillac CTS-V Exterior
The 2017 Cadillac CTS-V provides power in that raw, American muscle kind of way that most German competitors seem to lack. That clinical, almost sterile feeling you can get from other German performance sedans isn't present here. In fact, it is quite the opposite. The power delivery comes in at just the right point and is linear for as long as you hold the pedal down. It's visceral power that throws you back in your seat. It's 3.7 seconds to 60 mph power. It's fun power.
Standard on the CTS-V is Magnetic Ride Control which was designed to help make Cadillac's fastest sedan even faster. What it means in the real world is that the V can be comfortable around town and an absolute beast on the track. When left in Tour mode (the CTS-V has four modes: Touring, Sport, Track and Snow/Ice), the suspension copes remarkably well with your standard variety Southern California pothole, something that we couldn't say about other competitors we've driven such as the Lexus GS F. When in Sport and Track modes body roll is extremely minimal when cornering for a sedan that weighs just a hair over 4,000 lbs.
One of the main criticisms levied at American cars for decades now is that our interior design can't hold a candle to that of European cars. The CTS-V, however, has all the premium accoutrements you'd want from a $100,000+ (with options) luxury super sedan. And, dare we say, is just as good as anything you'd find from across the Atlantic. Our car was fitted with a few optional interior extras, including lots of carbon fiber, that really went a long way towards adding that "premium" feel. Alcantara and suede were used in all the right places – the steering wheel (heated by the way, a huge plus), the shift knob, interior trim and in the optional Recaro seats. The seats themselves were comfortable yet bolstering and offered a substantial array of adjustment and comfort options. If you can't get comfortable in these seats, that is probably your problem and not the seat's.
2017 Cadillac CTS-V Interior
On our tester, we had the optional Performance Data Recorder fitted, which is a video camera and software system that records your driving via a front-facing camera and overlays performance data on top of the video. While there isn't much use for such a feature on the street (well, apart from showing off how cool the feature is), it would be an absolute must-have if you take to the track. The head-up display (standard on the CTS-V) is simply one of the coolest technological advancements in the automotive world in quite some time and works wonders in the CTS-V. The display can display everything from navigation directions to the current song playing on the CUE infotainment system. We will note we had some issues seeing the display in daytime with polarized sunglasses on even with the brightness turned all the way up. Without sunglasses, it was easily legible.
Cadillac's CUE infotainment system offered all the technological functionality you would come to expect from a luxury car. The CUE system includes functionality for both Apple CarPlay and Android Auto in addition to providing its own suite of options such as built-in navigation and an integrated 4G LTE WiFi hotspot. We found the CUE system to be easy to navigate and use in all lighting and driving conditions. The haptic vibration that occurs when you press a button on the screen or on the center console was a welcome addition that aided in providing confirmation that you had successfully completed a button press.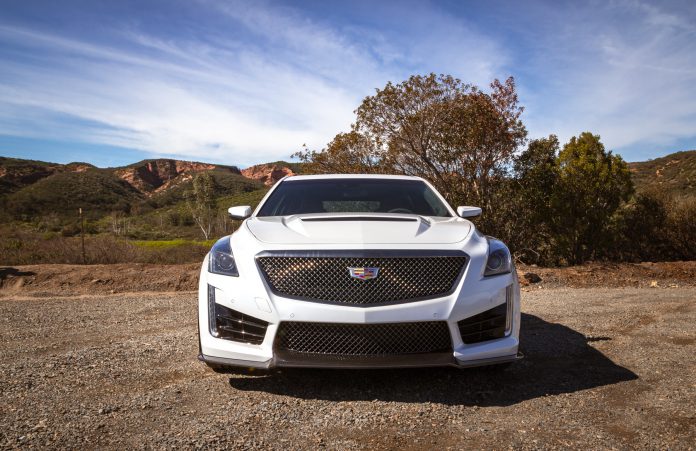 While this is quite a subjective subject with any car, we are quite fond of the exterior styling of this third-generation of CTS-V. It is aggressive, yet refined in a way that we didn't find as much with the likes of competitors such as the Lexus GS F or BMW M5. Our tester came with the optional $6,950 Carbon Black exterior package, which includes a carbon fiber hood vent, spoiler, front splitter and rear diffuser. In addition, the package included 19" After-Midnight dark finish alloy wheels as well as low gloss carbon fiber interior trim. The carbon fiber trim contrasts perfectly with the optional Crystal White Triicoat exterior paint. It's pretty much exactly how we would spec one if we walked into a showroom tomorrow.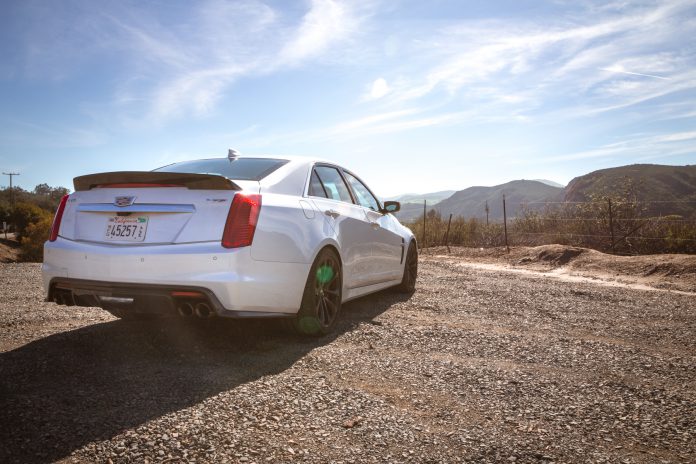 As tested our car was $103,360 including a $995 destination charge. Base price for the 2017 CTS-V sedan starts at $85,595 with an eight-speed automatic transmission.
The third-generation CTS-V remains as one of the best performance sedans on the market today. And with the addition of even more power, more aggressive styling and a refreshed and updated interior it will continue to compete against pricier rivals for years to come.